'Art is not a crime': Hundreds protest jailing of Spanish rapper for 'insulting' king (VIDEO)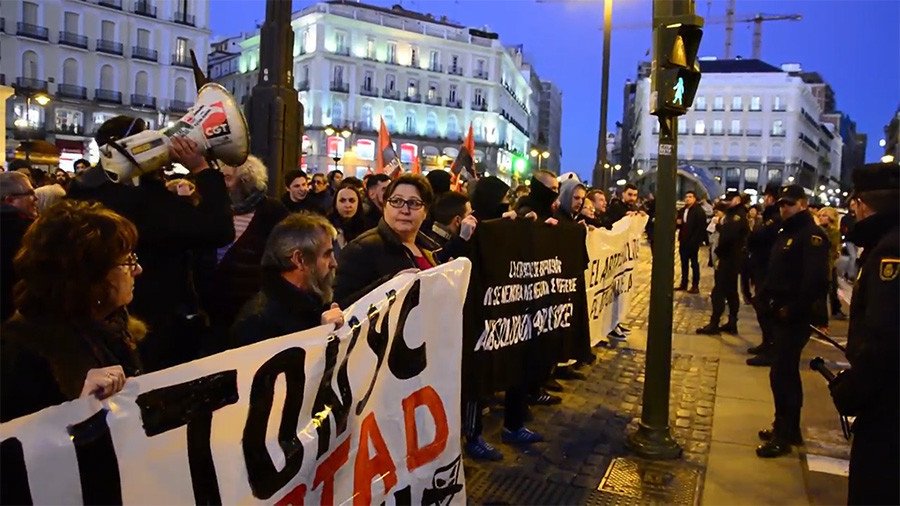 Crowds of protesters gathered in Madrid's central square to demand the acquittal of Valtonyc, a rapper whose lyrics landed him in jail for insulting the Spanish crown and glorifying terrorism.
Friday evening saw throngs of demonstrators show up at the Puerta del Sol square to show support for Mallorcan artist Jose Miguel Arenas, who goes by the stage name Valtonyc. His three-and-a-half-year prison term for the lyrics was upheld by the Supreme Court earlier this week.
Around 500 people came to the protest with the slogan 'Freedom of expression without going to prison,' according to the organizers.
Some activists held pictures of the 24-year-old rapper, with his face pixelated as being censored. Other banners read 'Freedom expression is not begged, is not negotiated, it's defended,' and 'Art is not a crime.'
Protesters demanded the release of the artist, sent to prison for slandering and threatening King Felipe VI and his family, as well as for praising "not just political objectives, but violent means used by the terrorist organizations and calls for them to be repeated." Some of the verses in question read "The Bourbons are thieves," referring to the ruling dynasty, or "Let them be as frightened as a police officer in the Basque Country," making indirect reference to the formerly armed separatist ETA group in northern Spain.
Valtonyc defended himself in court, saying that he was protected by freedom of expression and that rap music is known for "extreme, provocative, allegorical and symbolic" lyrics. On Friday, demonstrators also called for the acquittal of another rapper, Pablo Hasel, who was sentenced to two years for glorifying terrorism in his songs in 2014.
READ MORE: Opposition cries censorship as Spanish rapper jailed for insulting king & glorifying terrorism
Following the outcry, the once little-known rapper, Valtonyc, has been included in the line-ups of 30 festivals and concerts in Catalonia, including major Primavera Sound and Sonar in Barcelona, in a show of solidarity with the artist and rejection of the court's decision.
Like this story? Share it with a friend!
You can share this story on social media: