Palestinian detainee brutally beaten by IDF dies in custody in West Bank (VIDEO)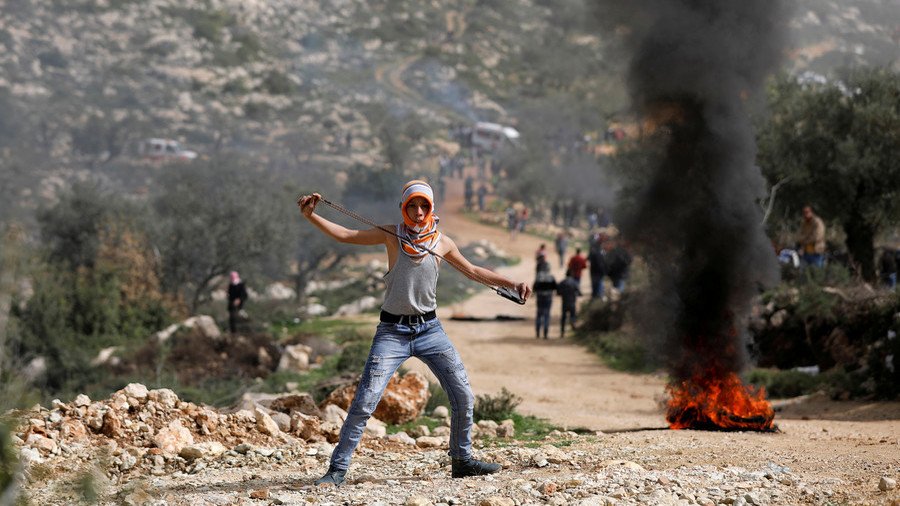 A Palestinian man died hours after he had been severely beaten during an arrest by Israeli forces amid clashes in the West Bank. While the troops are accused of intentionally killing the man, the IDF say he tried to attack them.
The confrontation between the 33-year-old Yassin al-Saradeeh and the Israeli Defense Force (IDF) took place in the city of Jericho at dawn on Thursday during a demonstration. The video posted by the Palestinian Information Center (PIC) on Twitter allegedly shows the moment when the man runs towards the Israeli troops after throwing some objects at them. As seen on the footage, the group of at least six soldiers knocks him to the ground, with some of them beating the Palestinian with their guns to the head, before arresting him.
While the Palestinian reportedly had no health problems before his detention, there are conflicting reports on what exactly led to his death several hours after the arrest. Palestinian media report that al-Saradeeh's family was informed by the IDF that the man suffered convulsions after inhaling tear gas fired by the troops during the rally.
However, Israeli media say that the man was fatally injured as he tried to attack a soldier and steal his weapon, according to Times of Israel, citing the IDF spokesman. He added that the detainee had a knife that was later found by the soldiers. It is not clear if the incident will be investigated by the Israeli army.
The Palestinian Authority's Detainees Commission accuses the IDF of intentionally killing and torturing the victim. The head of the body, Issa Qaraqe, called the soldiers' actions "a crime, execution and premeditated murder at the hands of occupation forces, which reflect the level of brutality and terrorism of the soldiers," according to Palestine's official WAFA news agency.
Israeli security forces arrested 11 Palestinians in the West Bank on Thursday, claiming that they were involved in violent demonstrations and rock-throwing attacks.
The IDF has been repeatedly accused of using excessive force against Palestinians amid high tensions, heightened by the US' recent decision to move its embassy to Jerusalem. In January, two 16-year-old Palestinians were shot dead by the Israeli troops during protests in the village of Burin and in a border area in Gaza. The IDF justified both killings, claiming the teens were linked to the stone-throwing protesters.
Over 20 Palestinians have been killed and thousands more injured in the wave of protests that have gripped the West Bank and Gaza following President Trump's Jerusalem decision, with hundreds of Palestinians voicing their indignation with the move every week after Friday prayers.
You can share this story on social media: