Turkey hits Kurds with toxic gas, 6 civilians injured – reports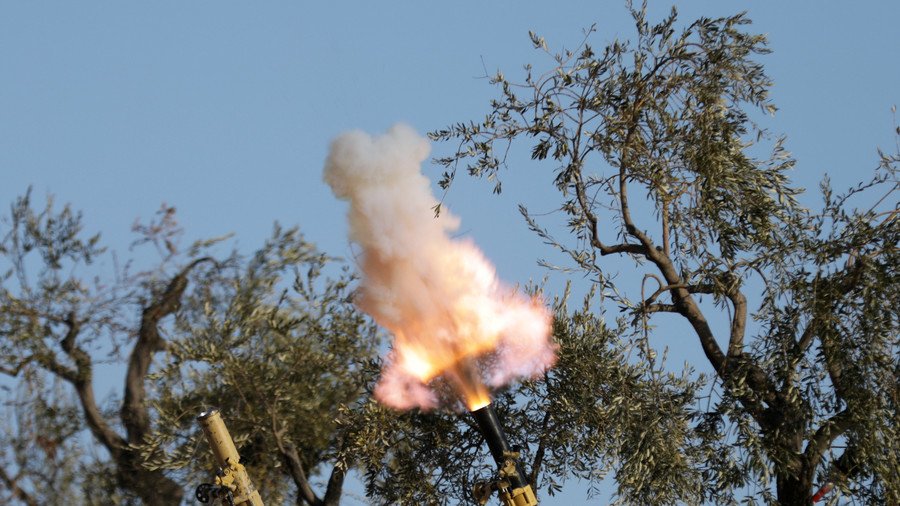 Turkish forces engaged in Operation Olive Branch against Kurdish militias in the northwest of Syria have used gas, Syrian state media SANA reports. At least six civilians have been hospitalized.
"Six people have been admitted with symptoms of suffocation as a result of the use of projectiles with poisonous gas by the Turkish regime in the town of Aranda," SANA quotes the hospital's director, Joan Mohammed. Medics are working to determine the type of gas used, Mohammed said.
An unnamed Turkish diplomatic source denied Turkey ever used chemical weapons in its operations in Syria, telling Reuters the accusation is "baseless" and "propaganda." "Turkey never used chemical weapons. We take utmost care about civilians in Operation Olive Branch," the source said.
Local journalist Mohammed Hassan tweeted pictures of patients, who were purported to be victims of the attack, wearing breathing masks. The hospital director said four of the victims were stable and two were in critical condition.
YPG spokesman Birusk Hasaka confirmed to Reuters that Kurds came under what appears to be a chemical attack during Turkey's offensive on a village, saying that the symptoms of the six people affected are consistent with exposure to a gas poisoning.
Turkey launched Operation Olive Branch on January 20 with a stated goal of securing its borders against Kurdish militias, which they have declared terrorist organizations. Turkish forces entered the northwestern Syrian region, centered around the city of Afrin, and have been "liberating" village after village with deadly force. They are being supported by the anti-Damascus militias from the Free Syrian Army.
Turkey's aggression has caused some animosity with its NATO allies. Top French officials have warned Ankara against "adding war to war" in Syria, and Germany suspended decisions on new weapon supplies to Turkey.
The biggest divide is with the US, whose troops in the Syrian city of Manbij, a mere 100km from Afrin, are supporting the Syrian Defense Force (SDF), another militia whose backbone is formed by Kurdish People's Protection Units (YPG). The YPG are one of the primary targets for Turkey, which has threatened to move on Manbij after it's done in Afrin.
Washington has attempted to appease Ankara by assuring it that any weapon supplies to the SDF are "limited, mission specific, and provided on the incremental basis to achieve military objectives only." Still, both countries' top diplomats have admitted that relations have come to "a crisis point."
You can share this story on social media: