US trying to create 'quasi-state' on large part of Syria's land – Lavrov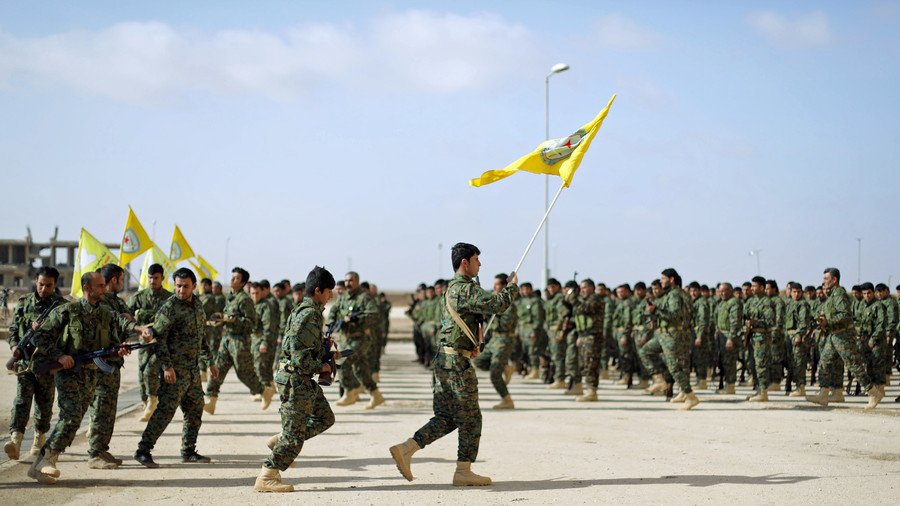 The US has likely taken a "course to create a quasi-state" in the Kurdish SDF militia-held regions of Syria, despite the proclaimed adherence to the territorial integrity of the country, Russia's FM Sergey Lavrov said.
The US activities in Syria are driven by undertaking "dangerous, unilateral steps" instead of trying to "achieve a common understanding" between all the parties, Lavrov told reporters on Tuesday.
He warned that Washington's true goal might be the partitioning of Syria. The recent steps of Washington, including the creation of the so-called Border Security Force (BSF), operating under the Kurdish Syrian Democratic Forces (SDF), have prompted even more questions in Moscow.
"We've raised these questions multiple times but have not received a coherent answer besides a general motto 'Don't' worry we're for the territorial integrity of Syria.' In reality, it looks otherwise though," Lavrov stated.
The recent US steps "look more and more like a part of a course to create a quasi-state of sorts on a large chunk of Syrian territory," Foreign Minister said. "Autonomous, independent from Damascus governing bodies are being created in this territory, money keeps flowing there to keep them functional. Law enforcement, created there, is receiving weaponry."
The UN should pay attention to this situation and take steps to prevent any "external players" from "jeopardizing the principles of reconciliation set by the Resolution 2254," Lavrov said. Such actions on part of the UN are especially important after the reconciliation process received a "powerful impulse from the Syrian National Dialogue Congress in Sochi." The reconciliation process should definitely include representatives of Syria's Kurdish minority, the official stressed.
"Russia has been from the very beginning and remains a supporter of a direct Kurdish participation in all the efforts on Syrian reconciliation. Kurds are an inseparable part of the Syrian society," the official stressed.
Earlier on Tuesday, US Secretary of State Rex Tillerson confirmed the US plans to allocate $200 million to "stabilize" SDF-controlled areas of Syria. The top US diplomat made the announcement during a meeting of foreign ministers of the US-led anti-Islamic State (IS, formerly ISIS/ISIL) coalition in Kuwait.
It's doubtful, though, that the funding would go to actually "stabilizing" these territories, but might actually be spent on additional arms for the US-backed militias in Syria, which would contribute to escalating of the conflict instead, the director of the British think-tank Gnosos, Middle East expert Ammar Waqqaf believes.
"The real thing is, we believe, that the United States is preparing the ground for a long-term separation, or a permanent, actually separation of the eastern and the north eastern part of Syria from the Syrian state under the guise of the Kurdish-led democratic sort of state," Waqqaf told RT. "The $200 million that are being pledged today are not going to bring back electricity and water to the devastated Raqqa, we believe, but probably bring more weapons to the Kurds, which is going to put some pressure on other minorities in the region to accept Kurdish supremacy under the United States' umbrella."
You can share this story on social media: