Saakashvili's arrest inside Kiev café before deportation caught on camera (VIDEO)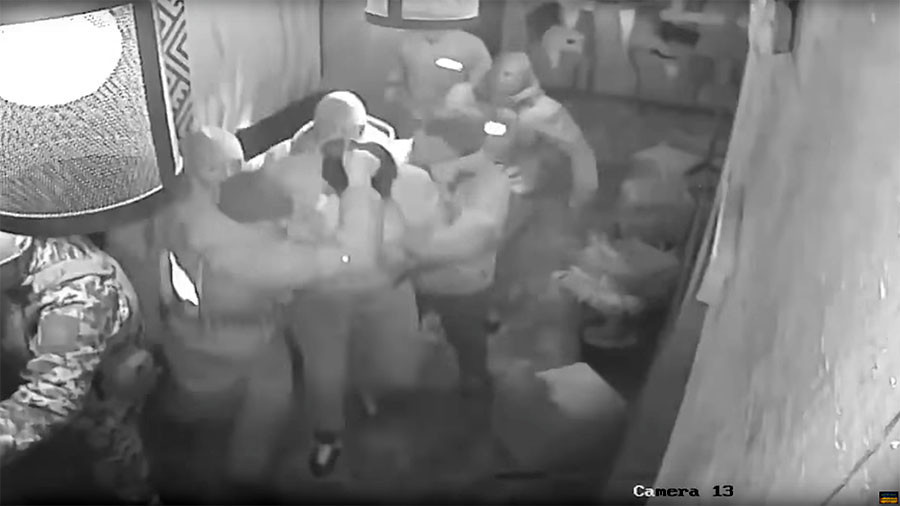 The latest phase of ex-Georgia leader - and now Ukranian opposition figure - Mikhail Saakashvili's tumultuous career has ended abruptly inside of a café in Kiev. On Monday, he was deported from Ukraine to Poland.
Ex-Georgian President Mikhail Saakashvili has once again found himself persona non-grata, this time in Ukraine where he formerly served as the Governor of Odessa.
In raw video footage of the dramatic arrest inside of a café in downtown Kiev, masked members reportedly from Ukraine's State Migration Service and regular police are seen storming the restaurant as confused patrons look on.
Saakashvili is dragged from the restaurant by a group of four men, one leading him along with a fistful of the former Georgian president's hair. Another individual inside of the restaurant, possibly a supporter of the Georgian native, was seen being thrown to the floor before Saakashvili was led out.
Having fallen from grace in 2008 after launching a war against Abkhazia and South Ossetia, Saakashvili fled to Ukraine where he was granted citizenship by Ukrainian President Petro Poroshenko. He was appointed the governor of Odessa in 2015.
In an apparent effort to return Poroshenko's favor, Saakashvili accused the Ukrainian president of corruption, prompting Poroshenko to revoke his gift of citizenship in July 2017. In September, however, Saakashvili, made a dramatic return to Ukraine, illegally crossing the border from Poland where his supporters huddled him away.
On Monday, following the arrest, the Ukrainian border force said that Saakashvili was in Ukraine "illegally" and was "returned to the country from which he arrived." However, Saakashvili hit back, saying that he "will certainly return to Ukraine."
Like this story? Share it with a friend!
You can share this story on social media: