50+ Palestinians injured in clashes with IDF on 10th weekly 'Day of Rage' (VIDEO)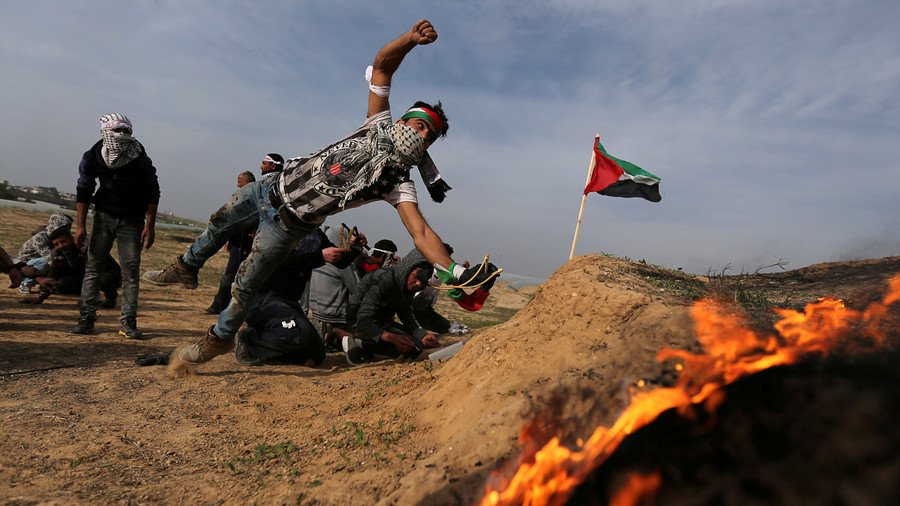 At least 57 people have been injured by Israeli forces who used live ammunition to suppress the tenth 'Friday of Rage' protests that have gripped the Palestinian territories since the US recognized Jerusalem as Israel's capital.
Massive clashes have once again erupted across the occupied West Bank and Gaza following Friday prayers. Israeli security forces moved in to put down the unrest using volleys of tear gas, rubber bullets and in many cases live ammunition – while the Palestinians hurled stones and Molotov cocktails at the Israeli soldiers. At least 57 people were injured in the clashes, according to the Palestinian Ministry of Health.
The Israel Defense Forces (IDF) said it fired shots to suppress Palestinians as more than 400 rioted in Gaza. Similar actions by the IDF took place at 13 flashpoints across the West Bank, where some 850 protesters took to the streets.
'Slap in the face': Abbas condemns Trump's 'deal of the century,' Israel's 'killing' of Oslo Accords

One person suffered a "serious injury" and remains in a critical condition after being shot in the head with a live bullet in the Gaza Strip, the ministry said. Overall 27 Palestinians injured in live fire in Gaza are now being treated by local hospitals. Live fire used by the Israeli troops also injured seven people in the city of Nablus, in the West Bank.
Dozens of people suffered wounds from rubber-coated bullets across the Palestinian territories. The ministry said 14 protesters were injured by rubber rounds during clashes in Ramallah, also in the West Bank.
US President Donald Trump's December 6 decision to recognize Jerusalem as the Israeli capital sparked outrage across the Palestinian territories, with people pouring into the streets every Friday to voice their indignation over the move, which has been condemned by the Muslim world and overwhelmingly rejected by the United Nations General Assembly. The protests, which regularly spiral into violence, have so far claimed the lives of 24 Palestinians, while thousands of others have been injured, according to Haaretz.
Think your friends would be interested? Share this story!
You can share this story on social media: