Kurdish forces thought to have executed dozens of ISIS suspects in Iraq – HRW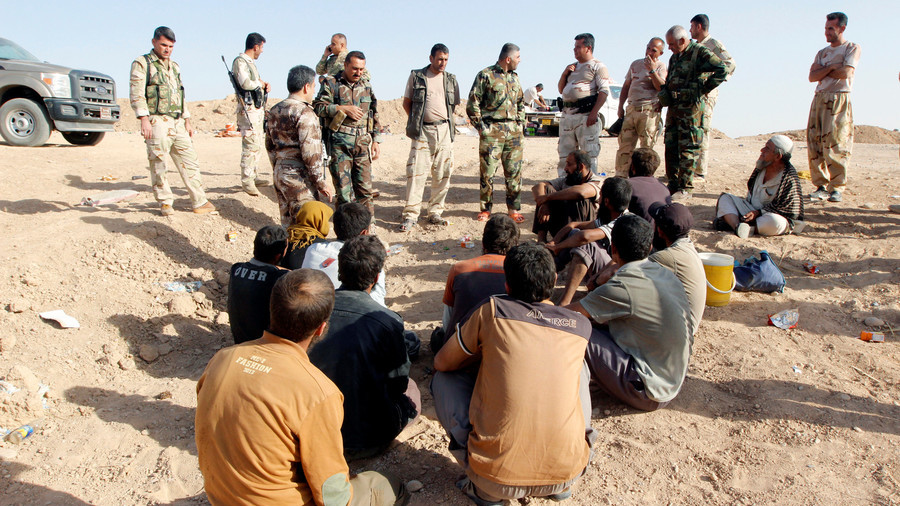 An HRW researcher told RT the rights group has collected enough evidence suggesting that dozens of alleged Islamic State fighters were executed by Kurdish security forces in Iraq.
Human Rights Watch (HRW) released a lengthy report on Friday, suggesting that Kurdish security forces, or Asayish, had executed dozens of alleged Islamic State (IS, formerly ISIS) members. Belkis Wille, the group's researcher in Iraq, told RT the investigation into alleged mass killings was launched after footage of purported mass execution sites began emerging on social media.
The report, which cites a former Kurdish security force member and a number of local eyewitnesses, says the Asayish last year executed dozens of Islamic State fighters in their detention and disposed of their bodies in a mass grave northwest of Mosul.
"Summarily executing of detainees is a very serious violation of the laws of war. In fact, it amounts to a war crime," Wille told RT. "As we understand, the orders to execute these men came from senior members of the Asayish security forces."
A former Kurdish officer, identified as Nadim, said that some IS suspects were taken from prisons and executed at a remote site outside Mosul. In other cases, dozens of men were forced into a large refrigerator truck, which brought them to the site of the previous executions near Bardiya.
Kurdish militants then dumped the bodies of detainees who had died in the truck from the cold or asphyxiation in a ditch, "and shot and buried alongside them any who were still alive," the report said.
On-the-spot forensic efforts may be complicated by the fact that the mass grave site is located near the Mosul Dam reservoir. Therefore, "it is critically important to urgently allow international forensic experts to conduct a detailed exhumation of the site before seasonal rains fill the reservoir again later this year," the rights group noted.
Kurdish Peshmerga forces have long been trained and equipped by various Western nations, among them the US, Germany, Italy, and the Netherlands. Germany, for instance, supplied 2,000 assault rifle and machine guns, as well as other weapons.
Last July, Peshmerga fighters, subordinate to the Kurdistan Regional Government (KRG), assisted a US-backed offensive by Iraqi forces to capture Mosul, once second-largest city of the war-torn country. The battle saw thousands of people killed and some 2.6 million displaced.
This is not the first time KRG forces have been accused of human rights abuses. In January 2017, HRW published a report saying Iraqi children aged 11 to 17 were subject to torture by Asayish members. The Kurdish security forces "held them in stress positions, burned them with cigarettes, punched and kicked them, beat them with plastic pipes and cables, and shocked them with electricity," according to the report.
"The US-led coalition should press the Kurdistan Regional Government to either investigate the matter fully or, if they claim our information is inaccurate, to show us proof that that the men who surrendered are still alive and well in detention," Wille said during a conversation with RT.
Think your friends would be interested? Share this story!
You can share this story on social media: