Newly-discovered asteroid just days away from Earth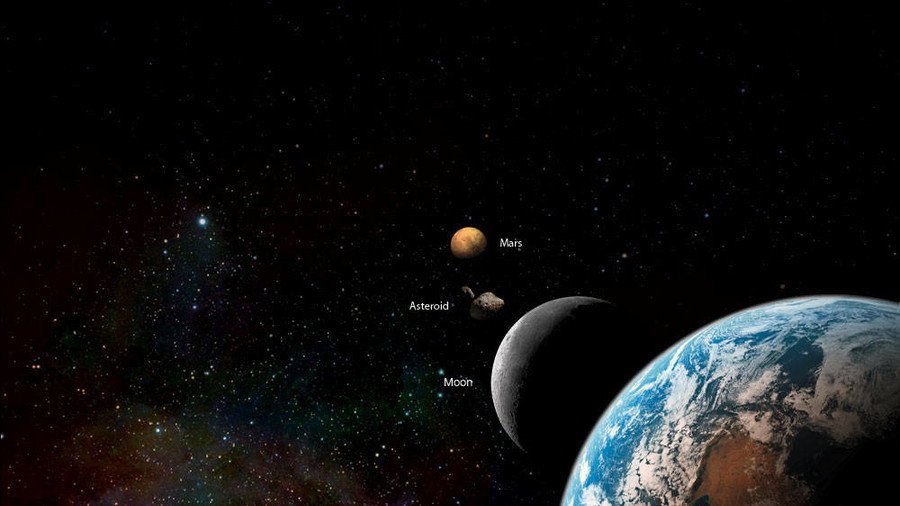 An asteroid predicted to be twice the size of the meteor which exploded over the Russian city of Chelyabinsk in 2013 will slip past Earth Friday – just days after it was first spotted coming our way.
The recently discovered asteroid named 2018 CB will come within a distance of about 39,000 miles (64,000km) – less than one-fifth the distance of Earth to the Moon, according to NASA.
Estimated to be between 50 and 130ft (15 and 40 meters) in diameter, 2018 CB has the potential to be double the size of the 17-meter Chelyabinsk asteroid which left 1,000 people injured and damaged thousands of buildings.
"Although 2018 CB is quite small, it might well be larger than the asteroid that entered the atmosphere over Chelyabinsk, Russia, almost exactly five years ago, in 2013," said NASA's Paul Chodas. "Asteroids of this size do not often approach this close to our planet – maybe only once or twice a year."
READ MORE: 'Potentially hazardous': Colossal asteroid will fly past Earth tonight
Despite its size and the close proximity, NASA says the space rock will pass by safely at around 5.30pm EST Friday. The huge space rock was discovered along with another smaller asteroid by the NASA-funded Catalina Sky Survey (CSS) near Tucson, Arizona, Sunday.
The other asteroid, 2018 CC, passed by the planet on Tuesday at a distance of about 114,000 miles (184,000km).
Two asteroids, one week. The 1st of this week's close-approaching asteroids happened Feb. 6 at 3:10pm ET at a distance of ~114,000 miles. The 2nd asteroid will safely pass by Earth on Fri. at 2:30pm at a distance of ~39,000 miles. Get the details: https://t.co/pBqMPxgYuWpic.twitter.com/XHG9rMi9Kb

— NASA (@NASA) February 7, 2018
Anything that comes closer than 4,650,000 miles of Earth is classified by NASA as a "near-Earth object." According to NASA's Center for Near Earth Object Studies 13 other close approaches are set to take place this month, followed by five in March.
Among the near-Earth objects to pass our planet next month will be 2017 VR12. It will approach the planet within 3.8 lunar distances on March 7 – its closest encounter yet. An asteroid bigger than the Burj Khalifa in Dubai – the tallest building on Earth, safely whizzed past Earth Sunday at a distance of 2.6 million miles.
You can share this story on social media: