Ankara vows revenge as 7 Turkish soldiers killed in clashes near Syria's Afrin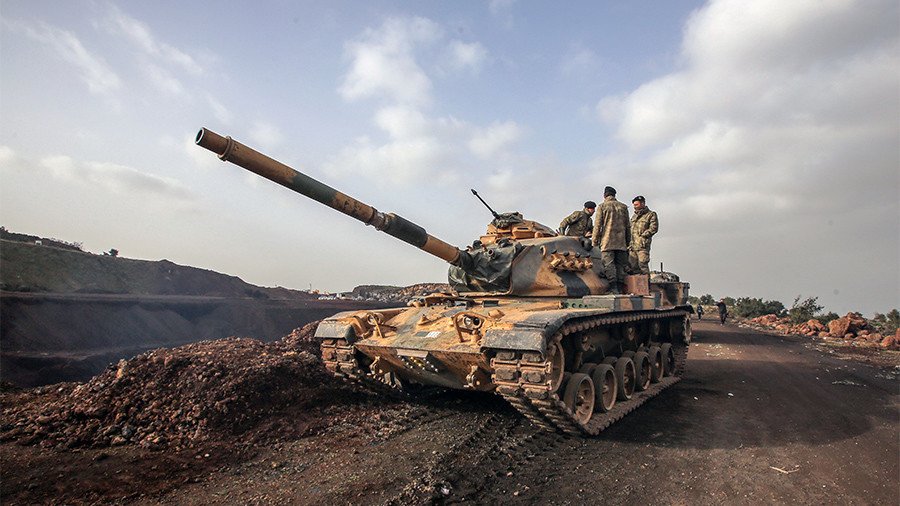 Seven Turkish soldiers were killed and a tank lost in Ankara's ongoing military campaign against Kurdish militias in Syria's northwestern Afrin region. The casualties marked the deadliest day for Turkey since the offensive began.
Five servicemen died in fighting near the settlement of Sheikh Haruz located north-east of Afrin, the Anadolu news agency reported, citing a statement issued by Turkey's General Staff. The soldiers were killed as a Turkish tank came under attack, it said.
Earlier, the General Staff also reported about the death of two other Turkish soldiers. One was killed in clashes with local armed groups on Syrian territory, while another lost his life during an attack by what Ankara described as "terrorist groups" in Turkey's Kilis province.
Turkish Prime Minister Binali Yildirim vowed retaliatory strikes. "They will pay for this twice as much. We have given the necessary response instantly, and we continue to do so," he said, apparently referring to the Kurdish militias, Anadolu reports. Following the attack on the tank near Sheikh Haruz, Turkey launched airstrikes targeting shelters, hideouts and ammunition depots of local armed groups.
On Saturday, the Turkish General Staff said 899 fighters of the Syrian Kurdish militias – People's Protection Units (YPG), Kurdistan Workers' Party (PKK) militants and Islamic State (IS, former ISIS/ISIL) terrorists – were "neutralized" since the launch of Operation Olive Branch. It added that 13 Turkish soldiers were killed and 57 wounded since the start of the operation.
Turkish President Recep Tayyip Erdogan said Turkey's troops are closing in on Afrin's city center as Operation Olive Branch entered its third week. "We are close," he said Saturday at his ruling Justice and Development Party (AKP) congress in the eastern Turkish province of Bitlis.
Ankara is targeting the YPG, a Kurdish-led militia it considers a wing of the armed and banned PKK. The YPG controls several enclaves in northern Syria, including Afrin. It secured the territories from Islamist rebels and other extremist groups over the course of the Syrian conflict with crucial backing from the US-led coalition.
Ankara launched air strikes against Kurdish positions late in January, with its troops advancing into the Kurd-held territories. A number of Turkish towns and villages along the Syrian border have meanwhile been hit by rocket strikes.
Turkey claims it seeks to secure its borders by pushing back what it calls "terrorist groups." The Syrian government, though, has condemned the Turkish operation and considers the incursion a violation of Syrian sovereignty.
An estimated 5,000 civilians were displaced during the first days of the military campaign, according to the UN. UNICEF said at least 23 children have been killed as a result of fighting in the Syrian provinces of Afrin, Idlib, Saraqab, Khan Shaykhoun and the capital Damascus. Local Kurdish sources maintain that 141 civilians were killed, Syria's state news agency SANA reported.
You can share this story on social media: