Robot barista serves coffee at Tokyo's 'Strange Cafe' (VIDEO)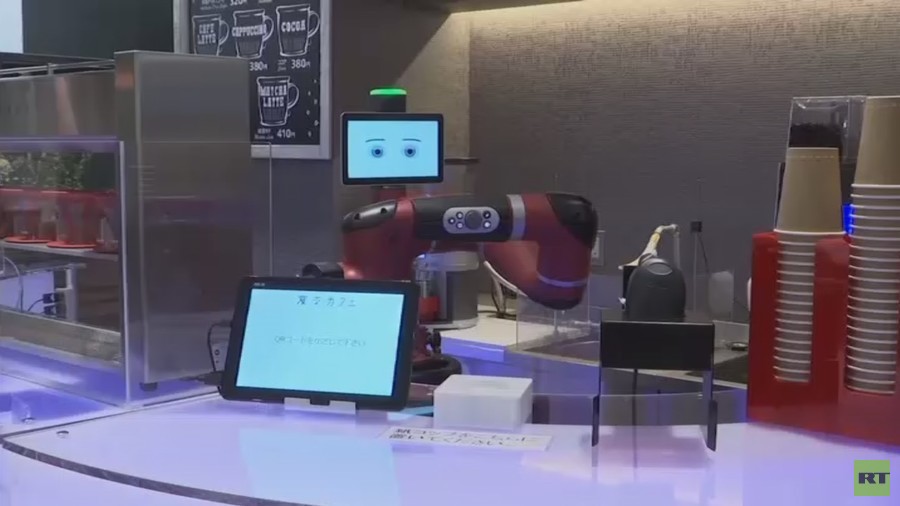 A robot barista has started work at a cafe in Tokyo – and what's more, the high-tech helper has halved the price of a cup of coffee.
Japanese company HIS opened 'Hen na Cafe', meaning Strange Cafe, in the country's capital Thursday. The robot, which goes by the name Sawyer, is composed of an arm with multiple degrees of freedom and a tablet computer for a face.
In footage posted online, the machine can be seen whizzing and whirring as it picks up a cup placed on a holder by customers. It then tips already ground beans into a filter before placing it on a rack. Steaming hot water then flows through the filter from above, making a fresh cup of robo-coffee.
Confirming many people's fears about automation, HIS says this fully-automated system has been installed to reduce the number of human workers needed to run the cafe, according to AP.
READ MORE: Girl, 7, groomed online by ROBOT in shock case police can do nothing about
The company says less staff means lower running costs and cheaper coffee for customers. A normal filter coffee in the cafe is 320 Japanese yen (around $3). This is much cheaper than normal Tokyo cafes where a cup coffee can fetch as much as $10.
The robot was developed by US robotics company Rethink Robotics. The company says Sawyer is designed for tasks that have been "impractical to automate with traditional industrial robots."
Think your friends would be interested? Share this story!
You can share this story on social media: