WATCH: Jellyfish looks like underwater firework in rare footage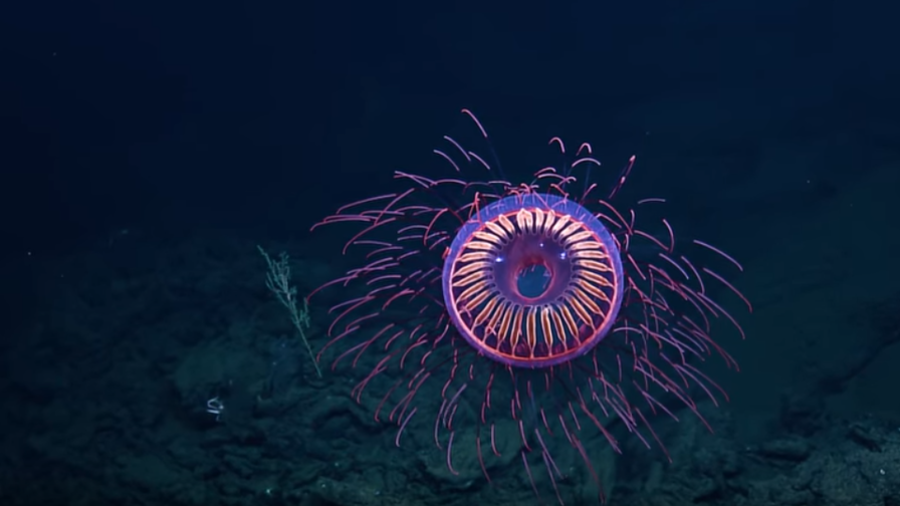 A stunning luminous jellyfish that resembles an exploding firework and is rarely encountered by humans has been filmed in the depths of the eastern Pacific Ocean.
The 'Halitrephes Massi' jellyfish was unexpectedly discovered by a research team aboard the Exploration Vessel (E/V) 'Nautilus' during one of their sampling operations some 4,000 feet underwater off Baja California, Mexico.
READ MORE: 'Aliens' of the deep? Horrifying shark with extending jaws caught off Taiwan (PHOTO)
The team were using their remotely operated vehicle (ROV) 'Hercules' near the Revillagigedo Archipelago looking for crabs, when they came across the jellyfish and its dazzling display. "When something remarkable floats by," the researchers said of the aquatic encounter,"our team quickly switches gears to marvel and document".
The jelly, first recorded in 1909 according to the National Geographic, was illuminated by the ROV's lights, but would otherwise go unnoticed and unseen in the dark.
"Radial canals that move nutrients through the jelly's bell form a starburst pattern that reflects the lights of with bright splashes of yellow and pink," the Nautilus team explained.
Like this story? Share it with a friend!
You can share this story on social media: