US promises Turkey to stop arming Syrian Kurds – media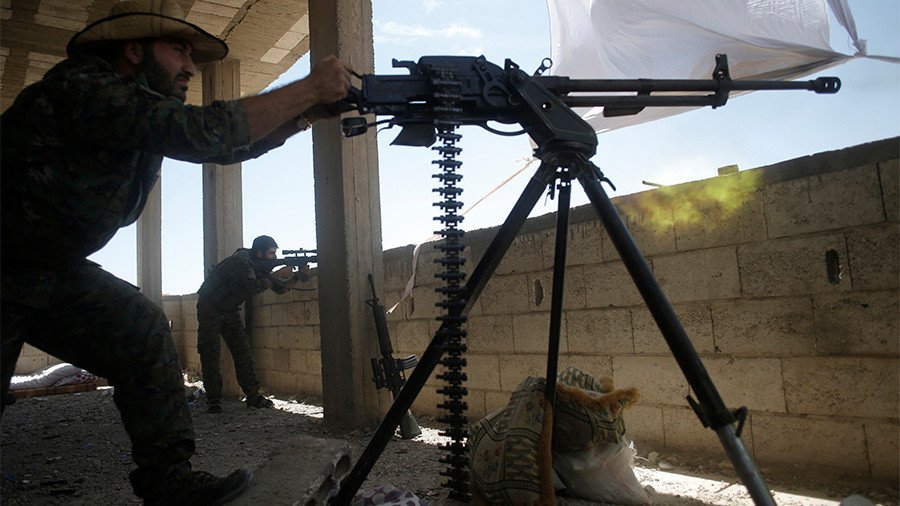 The US told Ankara it will not deliver any more weapons to the Syrian Kurdish PYD/YPG fighters, Turkish media report. The news comes as the Turkish operation 'Olive Branch' in northern Syria has entered its eighth day.
Turkish Presidential Spokesman Ibrahim Kalin and US National Security Adviser H.R. McMaster held a phone call on Friday evening, Anadolu news agency said. McMaster confirmed that Washington would no longer provide weapons to fighters of the Kurdish People's Protection units (YPG) and the Democratic Union Party (PYD).
#BREAKING Phone call of Turkish presidential aide Kalin, US Security Adviser McMaster confirms US will not give weapons to PYD/YPG

— ANADOLU AGENCY (ENG) (@anadoluagency) January 27, 2018
Later on Saturday Turkish Foreign Minister Mevlut Cavusoglu said that Washington should immediately withdraw from northern Syria's Manbij region, located some 100 km from Afrin. Speaking to reporters, the top official said that the US should take steps to end its support of the Syrian Kurdish YPG militia.
READ MORE: 'Operation Olive Branch': Key points of Turkish military campaign against Syrian Kurds
This is not the first time the US has promised to stop supporting Kurdish militias in Syria with arms: In December 2017, US Defense Secretary James Mattis made a statement to similar effect. Asked if the US indeed intends to halt its arming of the Kurdish forces in Syria, Mattis said, "Yes." However, at that time Washington did not release any clear statement of the White House's position on that matter.
The military operation launched by Turkey in and around Afrin follows Turkish President Recep Tayyip Erdogan's promise to "strangle" the new Border Security Force (BSF) in Syria. Earlier in January the US-led coalition announced that it would help create the 30,000-strong BSF, half of which would be comprised of the Kurdish Syrian Democratic Forces (SDF) alliance.
Turkey was angered by the fact that the major force behind the SDF is the Kurdish People's Protection units (YPG), linked to the Kurdistan Workers' Party (PKK) which is designated as terrorist by Turkey.
Shortly after the operation in Afrin was launched, Erdogan turned on Ankara's allies, insinuating that the US in particular was providing massive military support to Kurdish YPG in Syria. "Now, apart from 5,000 trucks, there are weapons and ammunition from around 2,000 planes." the Turkish leader said.
During the week-long operation in northern Syria, Turkey has repeatedly urged the US to stop arming Kurdish militias. "Those who support the terrorist organization will become a target in this battle," Turkish deputy prime minister Bekir Bozdag said on Thursday. "The United States needs to review its soldiers and elements giving support to terrorists on the ground in a way to avoid a confrontation with Turkey."
The US and Turkey have long argued over the status and future of Syria's Kurds. Ankara has repeatedly slammed Washington for delivering military supplies to Kurds in Syria. According to a Hurriyet Daily News report from December 2017, US President Donald Trump approved arming the Syrian Kurds, including with anti-tank, anti-aircraft and mortar weapons, due to be delivered in 2018. The US authorities didn't comment on the report.
You can share this story on social media: