Scuffles in Bucharest as thousands protest corruption (VIDEO)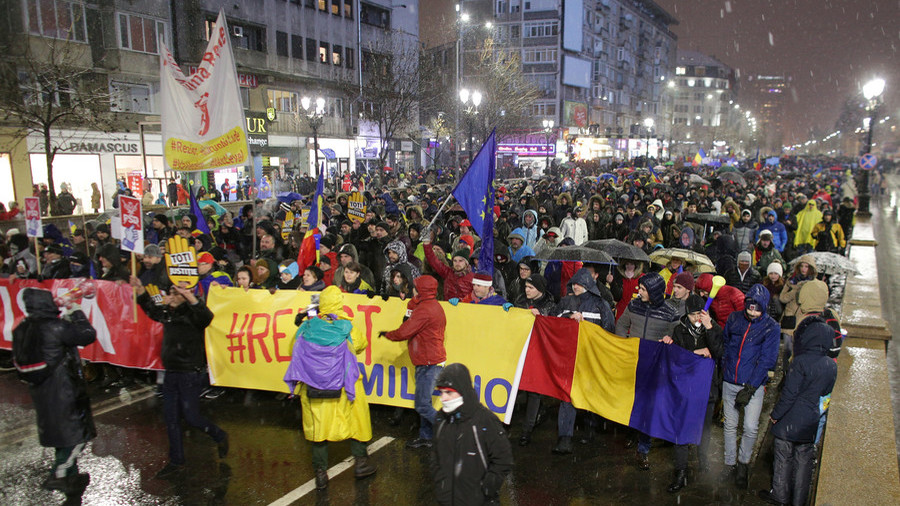 Some 50,000 Romanians braved the sleet and snow on Saturday to protest against corruption in Bucharest. Brief scuffles broke out between the demonstrators and riot police during the march.
The event kicked off at the city's landmark University Square, where protesters joined in blowing whistles, waving flags and chanting "Thieves!" and "Resign!" People also held rallies in other Romanian cities, including Cluj, Timisoara, Constanta, Bacau, Sibiu and Iasi.
Protesters are up in arms over new legislation, passed by the left-wing government in December. According to critics, the bill seriously compromises the country's judicial independence.
Lawmakers are also set to debate a new set of proposals for revising the criminal code, including decriminalizing certain offences and lowering prison sentences, when parliament reconvenes in February.
"I came out today because I have two little boys and they deserve a better life in this European country," protester Florentina Caval told Reuters. "I honestly don't think we will manage to overturn the judicial bills, but we need to try," she added.
Romania's anti-corruption prosecutors have sent 72 members of parliament for trial since 2006, according to Reuters.
Last year, an attempt by Romania's ruling Social Democrats (PSD) to decriminalize several corruption offences triggered the country's largest mass protests since the fall of Communism in 1989. An estimated half a million Romanians, including over 200,000 in the capital rallied in February 2017 calling for justice, AFP reported.
If you like this story, share it with a friend!
You can share this story on social media: