Bones of contention: Human skulls as art dig up Canary Islands controversy (VIDEO)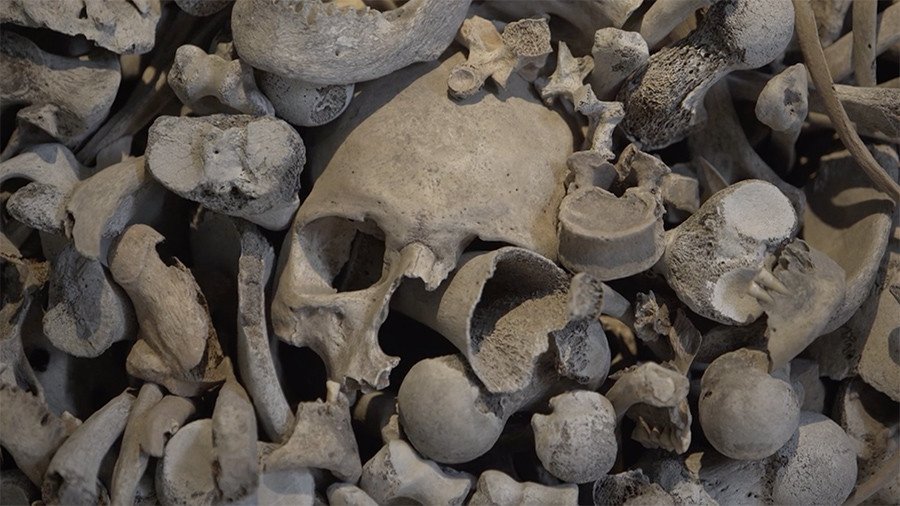 A new art installation built from real human bones and skulls is sending shivers down the spines of some visitors to a Canary Islands museum.
Arranged as a burial mound or 'tumulus', the exact origins of the bones are unclear, but according to local reports may have belonged to indigenous Canarians.
The piece, titled 'Threshold 2017', is on display at the Atlantic Museum of Modern Art (CAAM) in the city of Las Palmas, Canary Islands.
Artist Teresa Correa says that the sculpture shows the correlation between archaeology and anthropology. The piece centers on "a threshold between life and death," CAAM Director Orlando Britto Jinorio explained to Ruptly. "It is a replica of a tumulus that was already made with the same form in the Canaria Museum about 10 years ago by anthropologists. It is not the first time this work is done with these bones."
Jinorio commended the "poetic" nature of the artwork, adding, "It is a scientifically researched project by the Canaria Museum and by the CAAM for its formal quality and its conceptual depth."
However, the sculpture has drawn criticism that it shows no respect for indigenous groups. According to CAAM's former director Julio Cuenca, the museum has forgotten its function of "protection and conservation" of the items it exhibits. "I believe that these human remains belong to archaeological excavations, they should later be returned to tombs," he stated.
José Farrujia from the University of La Laguna, also lashed out at Correa, saying that the Canarian artist has forgotten "her social and moral responsibility."
"Competent institutions and citizens must ensure the safeguarding of heritage," he added, wondering if Correa had used the bones of her own great-grandparents in the installation.
You can share this story on social media: