Qatari royal claims he is being 'held against his will' in UAE (VIDEO)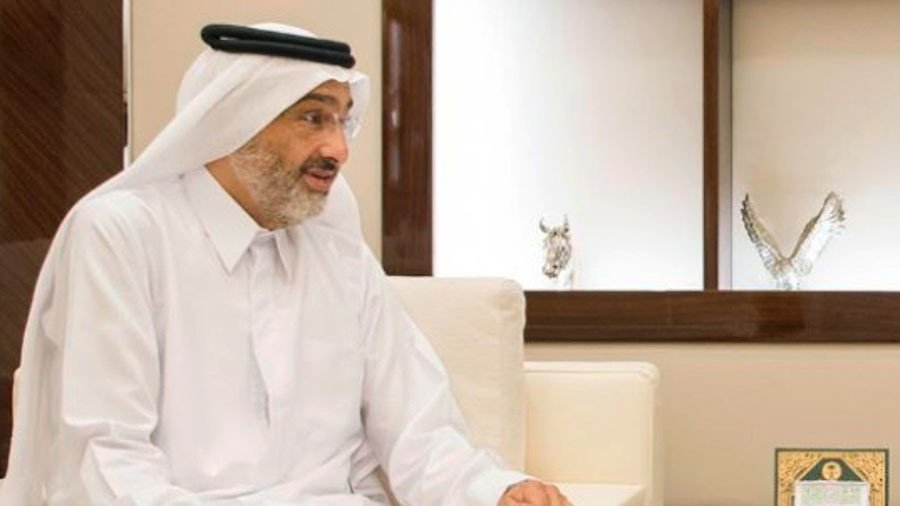 An obscure member of the Qatari royal family released a video Sunday in which he alleges that he is being held against his will in Abu Dhabi, a claim which Emirati authorities have vehemently denied.
"I am currently in Abu Dhabi. I was a guest of Sheikh Mohammed. I am no longer a guest; I am a prisoner," Sheikh Abdullah bin Ali Al Thani says in the video, which has gone viral across the Gulf.
"They told me not to leave. I am afraid that anything could happen to me, and the people of Qatar would be blamed. So I just wanted to inform you that if anything happens to me, the people of Qatar are innocent," he added. "I am a guest of Sheikh Mohammed and if anything happens to me after this, he is fully responsible."
Sheikh Abdullah is the son of a former Qatari emir and rose to prominence last year amid the diplomatic crisis in the Gulf. His grandfather, father, and brother all once ruled Qatar, but his branch of the royal family was ousted in a 1972 coup. His last official position was as head of the country's equestrian and camel racing federation, Deutsche Welle reports.
UAE authorities denied Sheikh Abdullah's allegations Sunday.
"Sheikh Abdullah was received with generosity and he is free in his movements and expressed his desire to leave the country where all procedures were facilitated without any interference hindering this procedure," UAE's minister of foreign affairs and international cooperation said in a statement, Arab News reports.
Sheikh Abdullah became a de facto mediator during the recent Gulf diplomatic crisis, in which Saudi Arabia, UAE, Egypt, and Bahrain imposed a land, air, and sea blockade on Qatar in June, on the pretence that Qatar was a state sponsor of extremist groups with alleged ties to Iran.
Abdullah was often seen speaking in favor of the blockade of Qatar, appearing regularly on Saudi and Emirati television. At a meeting of the Arab League in September, Qatar's minister of foreign affairs alleged that Saudi Arabia was looking to depose Qatar's Emir Sheikh Tamim bin Hamad Al Thani and install Sheikh Abdullah in his place.
Sheikh Abdullah also met with Saudi Crown Prince Mohammed bin Salman on several occasions, though Doha claimed the meeting was part of a personal trip and that the Sheikh was not there in any official capacity.
If Sheikh Abdullah's detention proves to be authentic, it would follow the trend within the recent Gulf diplomatic spat of detaining high-ranking officials to use as leverage, such as the supposed detention of Lebanese Prime Minister Saad Hariri by Saudi authorities in November. Hariri appeared on Saudi television to announce his resignation before immediately retracting his resignation upon arrival home.
Former Egyptian Prime Minister Ahmed Shafik also released a similar video to Sheikh Abdullah claiming that he was being held against his will in the UAE.
"This is now the way that Saudi Arabia and Abu Dhabi deal with their friends," Majed al-Ansari, a professor at Qatar University, told Al Jazeera. "Sheikh Abdullah is of no use to these countries because their plan to orchestrate a coup in Qatar has failed miserably."
"The state of Qatar observes the situation closely, and due to the total severance of ties with the UAE it is difficult to clearly establish the circumstances surrounding the situation," spokesperson for Qatar's Foreign Ministry Lulwa al-Khater said in a statement.
You can share this story on social media: