Protesters burn Netanyahu effigy in New Delhi ahead of 'historic' visit (VIDEO)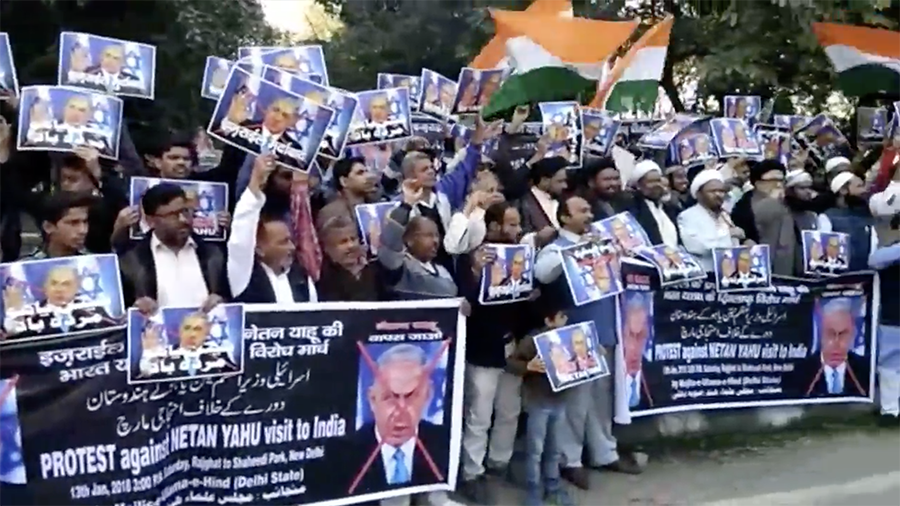 Protesters in the Indian capital denounced Benjamin Netanyahu's "historic" arrival in India – the first by an Israeli leader in 15 years. People burned an effigy with the PM's picture, urging him to go back home.
A group of men gathered in New Delhi on Saturday holding placards and banners with crossed-out images of the Israeli prime minister that read "Go back, Netanyahu" in English and Hindu. As the crowd shouted anti-Israeli slogans, a man in the front held a burning effigy, with pictures of the Israeli flag and Netanyahu attached to it, as seen in footage from Ruptly.
A similar protest has been staged in the city of Kargil where hundreds demonstrated against the visit and later burned Netanyahu in effigy.
The PM landed at the New Delhi airport Sunday in "a historic and special visit," Indian counterpart Narendra Modi said. The leaders hope to strengthen ties between the two countries during the six-day visit, with deals on cybersecurity, energy, and space cooperation expected to be signed.
The visit also comes weeks after India, along with 127 other countries, joined a UN General Assembly call for the Donald Trump administration to drop its decision on recognizing Jerusalem as the capital of Israel. The Israeli ambassador to India, however, said the vote would not affect bilateral relations, which are "much stronger than one vote at the UN."
The US' Jerusalem move generated shockwaves across the world, with violent protests erupting beyond the Middle East and a wave of criticism against Washington.
You can share this story on social media: