Russia deploys more S-400 air defense missile systems in Crimea (VIDEO)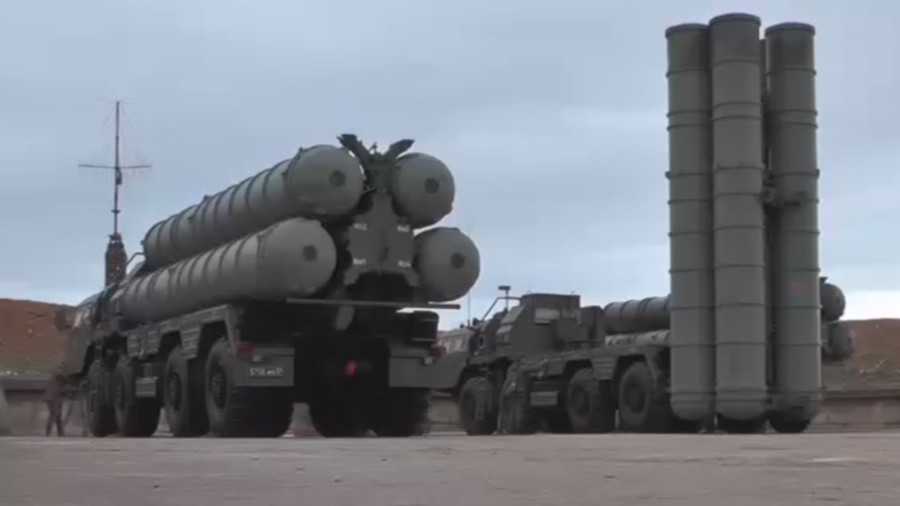 A second unit equipped with the S-400 Triumph anti-aircraft system has assumed combat duty in Russia's Crimean peninsula. As of now, the region is fully covered with the most advanced surface-to-air missile system.
The 12th Anti-Aircraft Missile Regiment, deployed on the Black Sea shoreline south of the city of Sevastopol, became fully operational on Saturday.
"As of today, the whole air defense of Crimea is equipped with the most modern S-400 surface-to-air missile system unmatched in the world," the Air Force and Air Defense Fourth Army commander Lieutenant General Viktor Sevostyanov said during the regiment deployment ceremony.
Last year, the 18th Guard Anti-Aircraft Missile Sevastopol-Feodosia Regiment became the first unit in Crimea to receive the cutting-edge S-400 system. The 12th Anti-Aircraft Missile Regiment received the modern systems some time ago and the crews have been training to operate them. The detachment has been previously equipped with older, yet reliable, S-300 systems.
"The S-400 Triumph anti-aircraft missile system can engage almost all existing targets, including the ones under development, the hypersonic ones. This system also reliably protects from ballistic targets. This complex has larger range; a large part of the Krasnodar region will be also shielded," Sevostyanov said.
The S-400 anti-aircraft system is designed to engage aerodynamic targets at a range of up to 400km and ballistic missiles up to 60km away. The system can use at least four interceptor missile types suited to different targets. An S-400 unit can engage up to 36 targets simultaneously.
The complex was adopted by the Russian military back in 2007 and began replacing older systems. Over the past five years, 16 anti-aircraft regiments have been equipped with the S-400 systems, Russia's Defense Minister Sergey Shoygu said last December.
The importance of strengthening Russia's defenses in Crimea was stressed by Kremlin's spokesman Dmitry Peskov earlier this week. "We know that both provocations and subversive activities continue on the Russian-Ukrainian border near Crimea," Peskov said, while commenting on the S-400 deployment. "That's why Russia's adoption of all the necessary measures to protect its security should not be viewed as a threat to anyone. This should be perceived as ensuring its own security."
You can share this story on social media: