Auto-banned: US army convoy kicked off German highway by traffic cops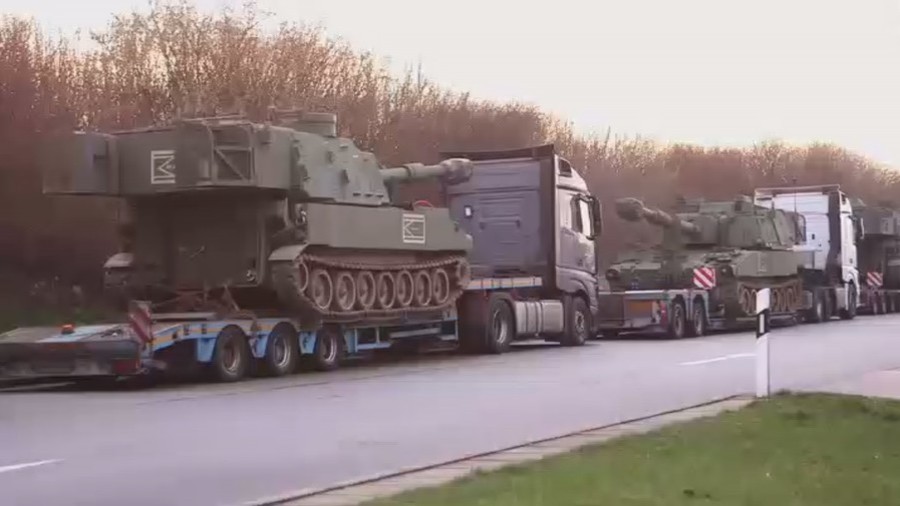 German police are reminding motorists that nobody is above the law. The move comes after officers stopped six US Army howitzers, saying the vehicles were overloaded and didn't have the correct identification documents.
Autobahns in Germany are famous for their high speed traffic so it's no surprise local police are always on high alert. Yet convoys loaded with the US army's large-caliber cannons are not something law enforcement has to deal with every day.
The aforementioned convoy, consisting of trailers ferrying six American M109 self-propelled howitzers to an undisclosed location run by the US Army, was stopped by Saxony traffic police in the middle of the A4 highway.
The "unusual transport" was stopped just outside the eastern German town of Bautzen.
"Thorough inspection [of the convoy] revealed that the required transportation documents were missing, the cargo was too wide and, above all, too heavy," the police explained. One of the trucks was also overloaded by about 16 tons, and the drivers dispatched by a Polish cargo company, "had already exceeded their driving and exhaustion limits."
"The long list of shortcomings" prompted police to ban the convoy from passing through until vehicles more suitable for the cargo were made available, the licenses were in place, and all other conditions were met.
READ MORE: Nothing unusual, just a T-80 tank overturned near Moscow in road mishap (VIDEOS, PHOTOS)
The cargo company and the truck drivers were eventually given fines, the statement said.
The unusual incident made headlines in the German press and triggered an avalanche of comments in social media. Some praised the police for doing a good job, while others wondered why the US military had used civilian infrastructure.
"The officers must be awarded a medal, and I hope the cargo company will be heavily fined. Disgusting war material is successfully halted [from going through]," Sven Uhlemann wrote on Facebook.
"Wish all the best for the police officers and their careers, they had courage to put a spoke in the US leadership's wheels," wrote another user, Rene Burkhardt.
Others asked the police to explain safe-driving requirements for heavy-duty trucks: "You've done super! I'm a heavy truck driver in the Bundeswehr, and I have a question – how many kilograms or tons can I carry per [vehicle] axis?"
You can share this story on social media: