Assange getting Ecuadorian ID could be 'first step' to diplomatic immunity – rights activist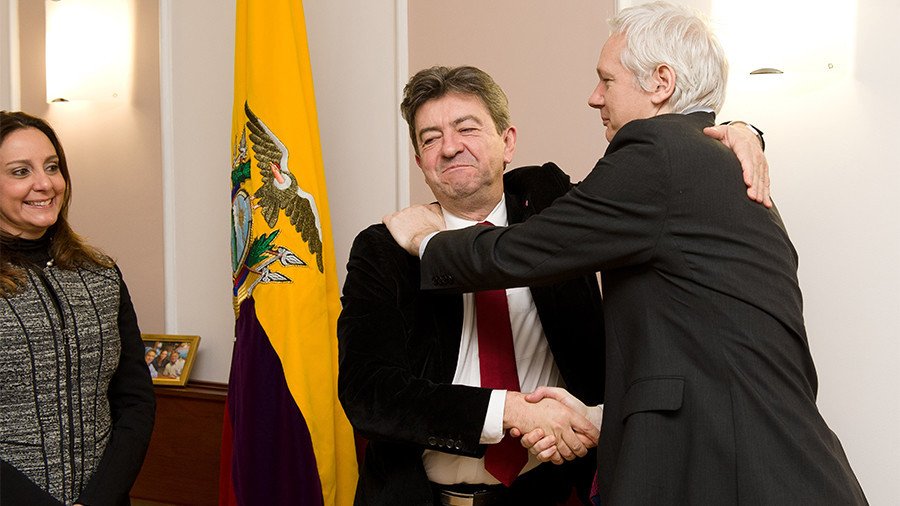 The Ecuadorian ID reportedly granted to Julian Assange could mark his first step to obtaining diplomatic immunity, as Ecuador wants to resolve Assange's indefinite embassy stay, human rights activist Peter Tatchell told RT.
"Granting an identity card is potentially the first step towards granting citizenship of Ecuador. And there is a possibility that he could be then granted a diplomatic status, which would give him diplomatic immunity," Tatchell, who is a human rights campaigner and the director of the Peter Tatchell Foundation, said. He added that diplomatic immunity would mean that the WikiLeaks co-founder would be "free to leave the embassy and travel to Ecuador and the British government would not be able to lay a finger on him."
Ecuadorian media reports Assange was given an ID card issued on December 21, citing "reliable sources" and providing the civil registry number of the document. The whistleblower also uploaded a photo of himself on Twitter wearing a yellow, blue and red shirt, the colors of the Ecuadorian flag, but made not comments on the issue.
Ecuador usually issues such ID cards for people claiming residency status, which are called cedulas. It is, however, unclear whether Assange was granted residency status or full citizenship.
However, Tatchell says "the Ecuadorian government has made it very clear that it wants a resolution [of this whole situation around Assange] and they are prepared to negotiate [to give] a way for Julian Assange [to leave] the embassy." He added that "granting him [Assange] an identity card is a new development that can open the door for further things in the future."
The Vienna convention on diplomatic relations states that someone who holds a diplomatic passport is immune from prosecution, the activist explained. It is still no guarantee, however.
"There is still a possibility that, even if he was granted diplomatic immunity by the Ecuadorians, the British government might still try to snatch him," Tatchell said, although "many British officials would be glad to see Assange getting a diplomatic passport and leaving [the UK]," he added.
Mads Andenas, a Professor of Law at the University of Oslo Institute of Legal Studies, agrees that an Ecuadorian ID, passport or any other change of status will not protect Assange from being arrested unless the Ecuadorian and the British governments strike a deal.
"I don't think it's up to the Ecuadorian authorities, I don't think they will manage to give him a status which will mean that the British authorities are bode from apprehending him. So this is something that has to be agreed and that's why the Ecuadorian authorities have started this process with arbitration," Andenas told RT.
He pointed out that Swedish prosecutors dropping their sexual assault investigation into Assange last year and the UN's calls for his release have not changed the UK stance on the issue. He said there is no reason to think they will change it now despite having "a very weak case and a very clear ruling by the UN body" that found Assange's imprisonment "arbitrary."
"They still maintain they want to apprehend him and he clearly will be apprehended if he steps out of the embassy with an Ecuadorian identity card, a passport or whatever." He said Assange is rightly afraid of eventual extradition to the US if the British police get hold of him.
You can share this story on social media: