Greek Patriarch attacked by Palestinians amid protests against church selling off land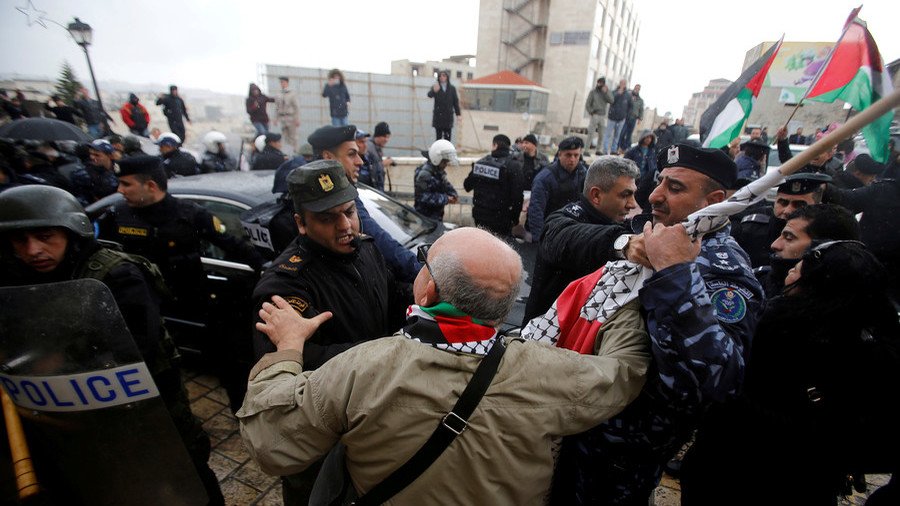 A convoy of the Greek Orthodox Patriarch has been attacked by Palestinians during his visit to the West Bank. The protesters accuse the Patriarch of treason for allegedly selling land to Jewish investors.
Hundreds of Palestinians were out on the streets to protest the visit of the Greek Orthodox Patriarch Theophilos III of Jerusalem to the West Bank Saturday. The Patriarch was in Bethlehem to attend an Orthodox Christmas mass at the Church of Nativity.
The demonstrators carried banners reading, "The Holy Land is not for sale or lease" while chanting "traitor, traitor," as the Patriarchs convoy approached. The protest action was prompted by the controversial decision of the Greek Orthodox church – a major landowner in the Holy Land – to sell off some of its assets to private investors.
"What happened today is a message to the Palestinian Authority and to Jordan that we will not allow this traitor to stay in the Church," a protester said as quoted by Reuters.
Protesters blocked the Patriarch's convoy and pelted it with eggs, stones and bottles. Palestinian security forces intervened and managed to push them away from the Patriarch's cortege. The windows of several cars in the convoy were smashed during the scuffles. The car carrying the Patriarch was unscathed.
The Greek Orthodox Church of Jerusalem acquired most of its land in 19th century and has been leasing them to public institutions for lengthy terms since then. In the past few years, however, the religious institution has seemingly embarked on a process of selling off its assets.
The Christian Orthodox Church's controversial behind-the-scene land deals have been reported on by the Israeli media. The land is said to have been sold to companies headed by Jewish investors.
The assets sold, allegedly include properties in both East and West Jerusalem, as well as in the cities of Caesarea and Jaffa. While the church cited mounting debt as the reason for the great asset sell-off, the knocked-down deals have raised eyebrows in Palestine as well as Israel.
In one instance, an anonymous company registered in a tax haven, bought 240 apartments, a commercial center and some undeveloped land in Jerusalem's center for the modest sum of $3.3 million, according to a report published by the Haaretz newspaper last October.
You can share this story on social media: