'Vision of censure: Macron's 'fake news' fighting undermines France's democracy'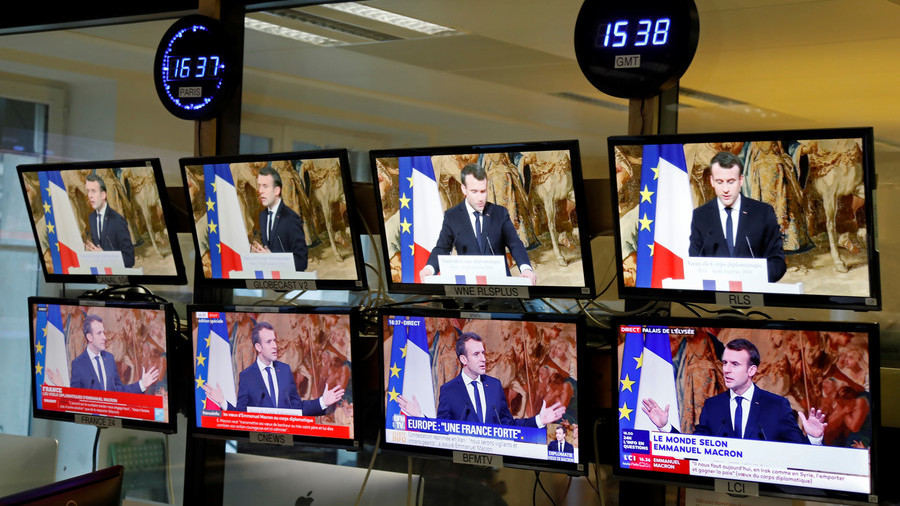 Emmanuel Macron's promise of broader powers for the country's media watchdog to target what he calls "fake news" indicates that Paris intends to curb democratic freedoms to support its own agenda, analysts have told RT.
"We are clearly moving in the direction of curbing the freedom of expression online, especially since the [French presidential] elections, Trump's win [in the US elections] and Brexit," French economist and blogger Olivier Berruyer told RT. Expressing surprise at the the "intensity" of this campaign in France, which is now poised to create a special law, he added: "There are few countries that make laws aimed at shutting down certain users or websites. We now approach the vision... [which] is not at all that of a liberal democracy."
This week, French President Emmanuel Macron announced his decision to make changes in the country's legal system "to protect democratic life from 'fake news.'" France's media watchdog, CAS, will be granted the right to refuse, suspend or cancel agreements with broadcasters that are "controlled or influenced by foreign states," he said, promising that the new law will come into force this year.
"It would be up to a judge to decide which website to close or not to close, and it's unbelievable to have this kind of proposal based on the assumption that the public, the audience isn't capable of checking the information and needs to be guided," said Berruyer.
"It evidently shows a vision of censure," he said, adding that a campaign on this scale that threatens democratic values is new for the European state. "It's an attempt to shut down all alternative sources of information."
Economist, analyst and author of the 'Fake News' book Philippe Bechade agrees that the tag of 'untrustworthy news' or 'propaganda' remains at the discretion of the authorities. "When it's against you, you flog it. When it serves you, flatters you, when the media is indulgent, there is no more propaganda there, only approval," he said, while also wondering how one can officially segregate news.
"In economics, it's pretty simple: a number is wrong... But in politics, it can be something extremely complex. And what makes it more complicated is the political agenda, or an attempt to manipulate the opinion," said Bechade.
READ MORE: Blame Russia: Assange outlines how to be a journalist in 2017
While Macron did not mention any particular outlets when announcing his plans for the new media law, he has previously singled out RT and Sputnik. Throughout his election campaign and since taking office, the French president has slandered the Russian outlets as "deceitful propaganda," and accused both of spreading "disinformation" about him.
"Since March, the attacks of the Emmanuel Macron camp towards RT have multiplied. They have accused us a thousand times of spreading fake news, never giving a single example of this fake news, and for a good reason: there aren't any," said Jerome Bonnet, chief editor of RT France.
You can share this story on social media: