Rubbish paradise? Bali garbage problem so bad might cause cancer, expert warns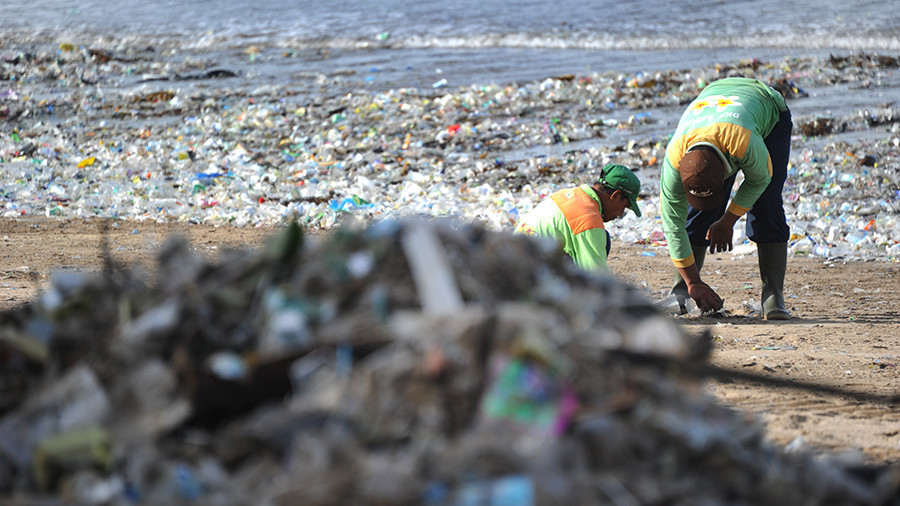 With Bali being a dream destination for many, its pollution problem has long been an issue of concern. Now the "garbage emergency" is so bad, it threatens not only to spoil holiday pictures but also cause health problems.
Images of surfers and swimmers surrounded by floating waste in once-alluring waters, or huge piles of rubbish in the sand of Bali beaches regularly put off people browsing for a perfect vacation spots. Recently, officials in Bali have declared a "garbage emergency," AFP reports. It affects such popular destinations on the shoreline as Kuta, Seminyak and Jimbaran beaches.
"When I want to swim, it is not really nice. I see a lot of garbage every day, every time," an Austrian traveler told the news agency, adding: "It's always coming from the ocean. It's really horrible."
"No one wants to sit on nice beach chairs and facing [sic] all this rubbish," another tourist from Germany said.
Nearly 1.3 million metric tons of marine debris are produced by Indonesia annually, according to AFP. The nation is the world's second-biggest contributor to such harmful waste after China. Authorities try to deal with the trash problem, deploying heavy machinery and cleaners to the islands (which doesn't add up to a picture-perfect holiday), but more plastic and other debris keep surfacing.
The situation gets worse during the monsoon season, when more rubbish is being washed ashore with stronger winds and swollen rivers.
"Garbage is aesthetically disturbing to tourists, but plastic waste issue is way more serious," Gede Hendrawan, an environmental oceanography researcher from Bali's Udayana University, warns. While all the plastic waste is increasing the risk of floods, and is often fatally harmful to marine animals who ingest or become trapped by it, the trash might also cause various diseases in humans.
READ MORE: 'Armageddon in the making': Sea creatures plagued by human plastic pollution (DISTURBING VIDEOS)
"Microplastics can contaminate fish which, if eaten by humans, could cause health problems including cancer," the scientist said.