'Arabs won't be led by Ankara,' UAE tells Turkey, as Twitter spat blows up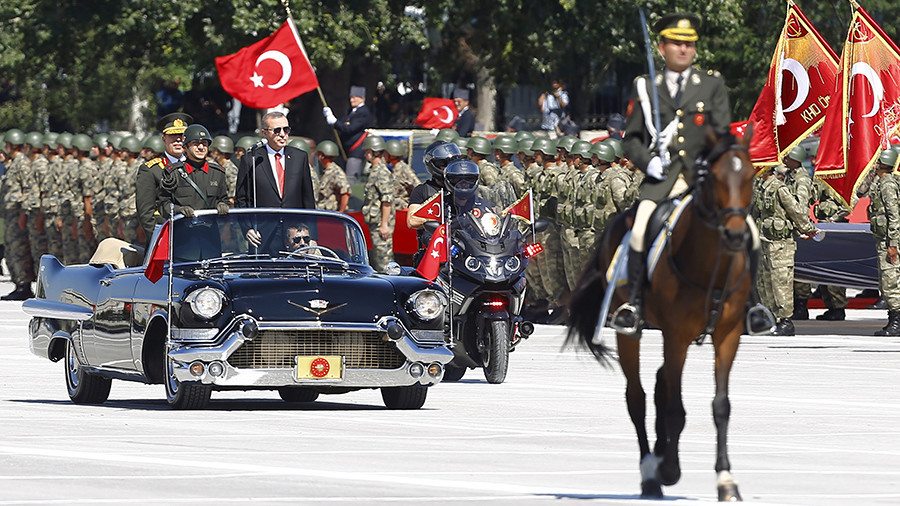 A United Arab Emirates diplomat has lashed out at Turkey, the latest episode in a dispute sparked by a single contentious tweet concerning 100-year-old historical events.
Anwar Gargash, the UAE minister of state for federal national council affairs and foreign affairs, whose country has previously accused Turkey of using political Islam to further its influence in the Middle East, said that Arab states must rally in the face of "regional ambitions."
"The sectarian and partisan approach is not an acceptable alternative. The Arab world will not be led by Tehran or Ankara," Gargash, who ranks below only the foreign minister as Abu Dhabi's top diplomat, wrote on Twitter. "The geostrategic competition taking place in the region calls for strengthened Arab unity with Riyadh and Cairo as its pillar."
READ MORE: Turkey plotting against Israel over Jerusalem might push Erdogan closer to Assad
The exchange of insults began last week, when Gargash's immediate boss, Foreign Minister Sheikh Abdullah bin Zayed al-Nahyan, retweeted a message accusing "Erdogan's ancestors" of plundering Islam's second holiest city while they ruled it as part of the Ottoman Empire.
"Did you know that in 1916, Turkish Fahreddin Pasha committed a crime against the people of Medina, stole their properties, and put them on a train en route to Damascus and Istanbul? Also, the Turks stole the handwritten books in Mahmoudia Library and took them to Istanbul. This is the history of Erdoğan's ancestors and what they did to Muslim Arabs," reads the tweet, originally posted by an ordinary social media user, an Iraqi man living in Germany.
هل تعلمون في عام1916قام التركي فخري باشا بجريمة بحق أهل المدينة النبوية فسرق أموالهم وقام بخطفهم واركابهم في قطارات إلى الشام واسطنبول برحلة سُميت(سفر برلك)كما سرق الأتراك أغلب مخطوطات المكتبة المحمودية بالمدينة وارسلوها إلى تركيا.هؤلاء أجداد أردوغان وتاريخهم مع المسلمين العرب pic.twitter.com/lEynzANQiV

— د. علي العراقي (@ali11iraq) December 16, 2017
After a fierce campaign in the Turkish media, the country's president, Recep Tayyip Erdogan, responded to the claim with a personal attack.
"Some impertinent man sinks low and goes as far as accusing our ancestors of thievery. What spoiled this man? He was spoiled by oil, by the money he has," said the Turkish politician, insisting that his country had always been a custodian of Islam.
'Erdogan's Turkey is evil'
Whether the retweet was a calculated provocation, or the result of several impulsive clicks, the escalation reflects wider concerns in the Saudi-led Arab world over Turkey's closer ties with rival Iran, and support for Qatar, which has been ostracized by the other Arab states in the region. In the wake of the argument, Turkey has sent an additional contingent of its troops to Doha, with whom it has a defense agreement, purportedly to combat terrorism.
Dhahi Khalfan, the deputy chief of police and public security for the Emirate of Dubai, has directly accused Ankara of fomenting rebellion by supporting the Muslim Brotherhood in Egypt, where it remains banned.
"Turkey led by Erdogan is an evil country," Khalfan, who is known on social media for his undiplomatic rhetoric, wrote in a tweet on Wednesday.
In turn, Turkish politicians have accused Arab states of endorsing the opposition movement of preacher Fethullah Gulen, whom Erdogan accuses of infiltrating the country's institutions and of staging an unsuccessful coup in July 2016.