US lets militants train, mount attacks from its Syrian bases – chief of Russian General Staff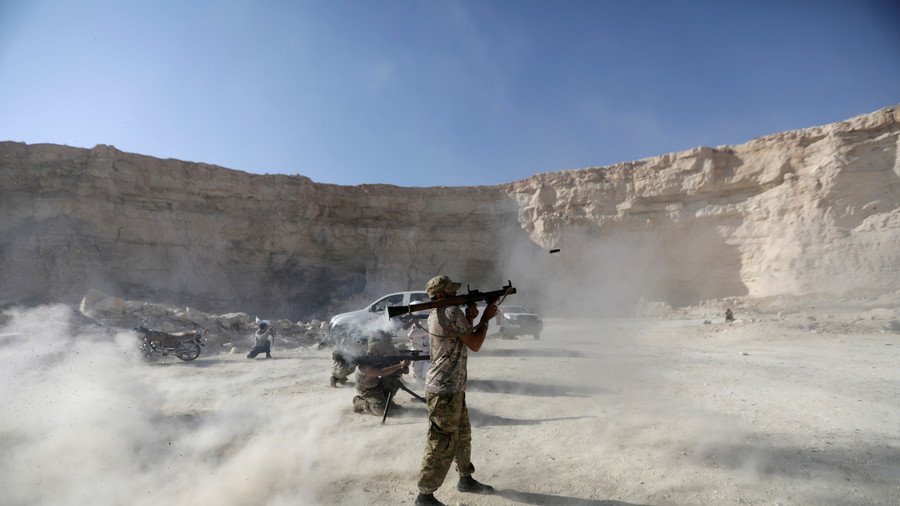 The US is hosting training camps for militant groups in Syria, including former ISIS fighters who fled from Raqqa, said the head of Russia's General Staff, Valery Gerasimov, citing data obtained by aerial surveillance.
The US forces have effectively turned their military base near the town of al-Tanf in southeastern Syria into a terrorists' training camp, Gerasimov said in an interview to Russia's Komsomolskaya Pravda daily on Wednesday.
"According to satellite and other surveillance data, terrorist squads are stationed there. They are effectively training there," Gerasimov said, when asked about what's going on at the base.
The general also said the US has been using a refugee camp in northeast Syria, outside the town of Al-Shaddadah in Al-Hasakah province, as a training camp for the remnants of the Islamic State (IS, formerly ISIS) terrorist group, including those evacuated from Raqqa, and other militants.
"This is essentially ISIS," Gerasimov said. "They change their colors, take different names – the 'New Syrian Army' and others. They are tasked with destabilizing the situation."
Some 400 militants left Al-Shaddadah for Al-Tanf, launching an offensive on the Syrian forces from the eastern bank of Euphrates, after the main ISIS forces were routed there, Gerasimov said.
The Al-Tanf base is located within the 55km "de-confliction" buffer zone.
At the moment, there are about 750 militants in Al-Shaddadah and 350 in Al-Tanf on the Syrian-Jordanian border, according to Gerasimov, who said the Russian military has been watching the training at the Al-Tanf base for some time.
"The most important is that we have been seeing the militants advancing from there for several months. When the control [of the Syrian forces] loosened, as many as 350 militants left the area," Gerasimov said, noting that the nearby town of Al-Qaryatayn was under threat of being captured by the militants had the Russian forces not repelled the offensive.
"We took timely measures…they have suffered a defeat, these forces were destroyed. There were captives from these camps. It is clear that training is underway at those camps," he added.
It's not the first time that Russia has pointed out to Washington that militants holed up inside the buffer zone have been staging attacks on Syrian forces. In October, Russia's Defense Ministry spokesman Igor Konashenkov called the base a 100km wide "black hole" created with US help on the Syrian border.
"Instead of the New Syrian Army, mobile ISIS groups, like a jack in the box, carry out sabotage and terrorist attacks against Syrian troops and civilians from there," he said, noting that while the pretext for the base's creation was "the need to conduct operations against ISIS" no information has been available to this respect during the first six months of its existence.
You can share this story on social media: