'Don't let Nazis govern': 1,000s protest new coalition govt in Austria (PHOTOS)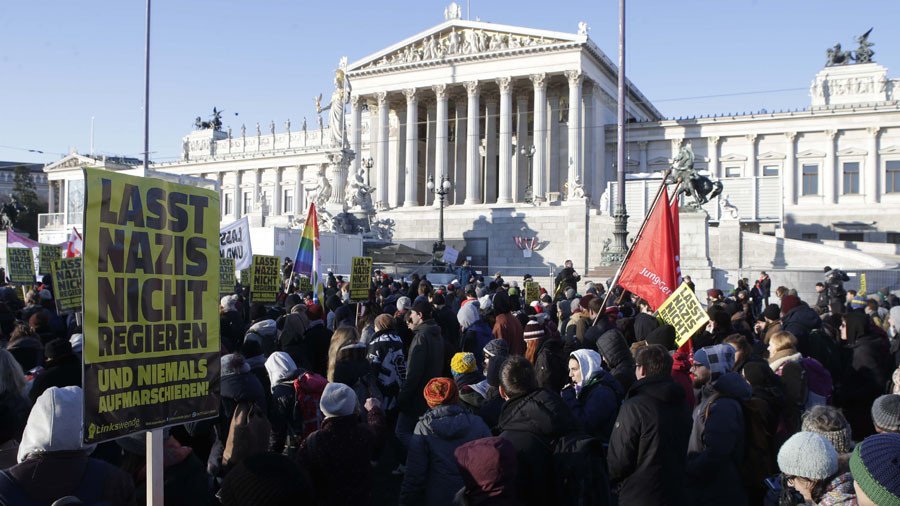 Thousands of demonstrators have gathered in Vienna to protest the swearing-in of the new Austrian government. The rally targeted the anti-immigrant Freedom Party of Austria (FPO), which has joined the coalition government.
Up to 6,000 people gathered in the Heldenplatz area near the official residences of the Austrian president and chancellor, Vienna police said on Twitter. Members of anti-fascist, feminist and left-wing student groups are among those protesting against the coalition between the conservative Austrian People's Party and the nationalist FPO. The demonstrators held banners reading "Nazis out" and "Don't let Nazis govern."
Some 1,500 police officers were deployed in Vienna, Kleine Zeitung newspaper reported. Photos on social media show protesters setting off firecrackers at the rally.The protesters began a fire in Heldenplatz, police later wrote on Twitter.
The FPO officially joined Austria's new coalition government on Friday, having spent two months negotiating with Sebastian Kurz's Austrian People's Party (OVP) following the OVP's resounding success in October's parliamentary elections. The FPO came third with 26 percent of the vote, less than 1 percent behind the second-placed Social Democrats.
The FPO, which returned to the Austrian government after an absence of almost 18 years, is known for its hardline anti-immigrant stance – helping it gain public support amid a massive inflow of refugees to Austria in recent years. Since 2015, the Alpine country has taken in some 150,000 asylum seekers – over 1 percent of its population, one of the largest per capita figures alongside Sweden.
The signs of the FPO's growing popularity were evident in December last year, when their candidate Norbert Hofer's bid to become modern Austria's president was only narrowly defeated in a neck-and-neck contest with centrist Alexander Van der Bellen.
You can share this story on social media: