Freak hail & thunderstorms batter UAE desert (VIDEO)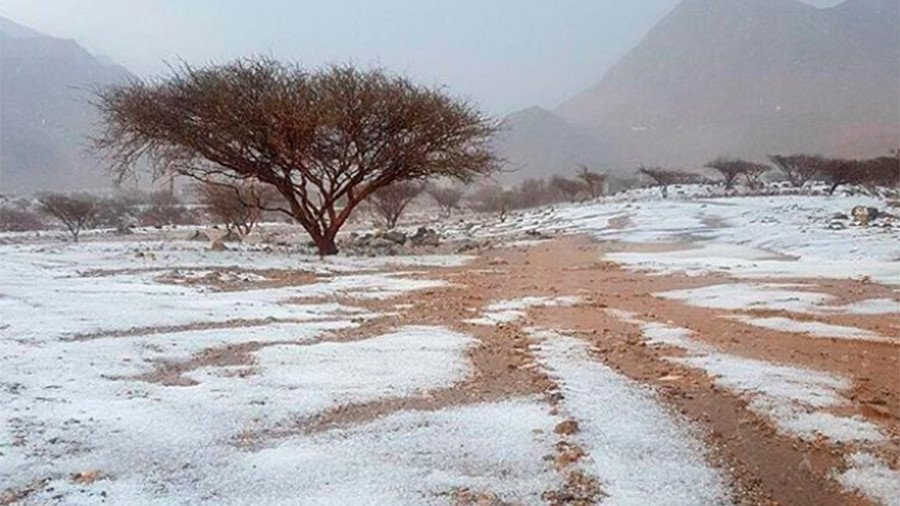 Rain, thunderstorms and hail have showered parts of the United Arab Emirates on Saturday, a freak change of weather for the typically hot and dry Gulf nation.
Hailstorms covered the sand in a white blanket, and both residents and tourists had to cancel their desert outings and wait out the severe weather at home.
"My family is on visit from India and we were planning to go for a desert drive on Saturday. We canceled it, thinking the weather would be too dangerous to venture out," Abdul Rahman, an Abu Dhabi resident, told Khaleej Times.
Heavy rain fell over Umm Al Quwain, Ras Al Khaimah, Dibba Al Fujairah and Jebel Jais, the UAE's highest mountain, while lighter showers fell elsewhere and hail was reported in parts of Fujairah. The thunderous downpour impressed even those visitors from far wetter countries.
The severe weather was expected to continue through the weekend, with northern and eastern parts of the country being most affected.
"We are expecting Dubai and Abu Dhabi will have some rain, will get the chance to face some rainfall as the areas that received rain on Saturday," Ahmad Al Kamali of the National Center for Meteorology (NCM) told The National. "Probably, there will be more cities having more rain."
Authorities have warned the public to stay away from the sea and mountainous roads, where huge tides of water may show up unexpectedly.
You can share this story on social media: