Israeli police use tear gas in clashes with Palestinians in Bethlehem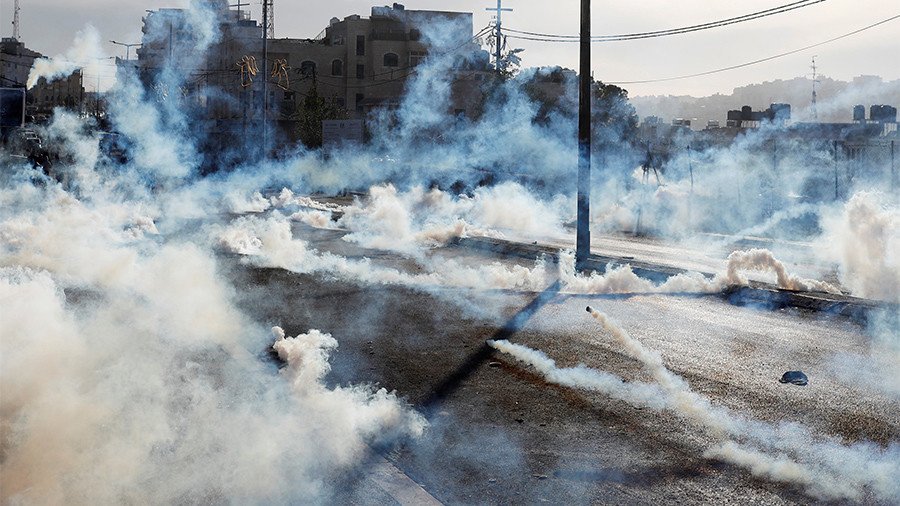 Israeli police in Bethlehem have deployed tear gas during clashes with Palestinians protesting Donald Trump's decision to recognize the city as Israel's capital, live footage shows. RIA Novosti's correspondent says he was injured in the tumult.
Israeli soldiers reportedly used stun grenades on the protesters. One of the APCs headed towards the demonstrators and used tear gas on them. The RIA Novosti correspondent said that he had been tear-gassed during the clashes.
Clashes in Bethlehem continue for a fifth day, with protests often turning violent and resulting in injuries.
Demonstrations are breaking out across the globe after US President Donald Trump has officially recognized Jerusalem as the capital of Israel.
READ MORE: 'Jerusalem is ours!' Most dramatic moments of Muslim protests across the world (PHOTOS, VIDEO)
Palestinian leader Mahmoud Abbas was among the first to condemn Washington's decision, saying that Jerusalem remains the "eternal capital" of Palestine. "These deplorable and unacceptable measures deliberately undermine all peace efforts, and proclaim that [the Americans] are abandoning the role of sponsor of [the] peace process that they have played over the past decade," Abbas said in a televised speech on Wednesday.
At least 1,397 Palestinians were injured during clashes against Israeli security forces on Friday and Saturday, Red Crescent spokeswoman Erab Sukaha said as cited by the Jerusalem Post.
You can share this story on social media: