'Smart superglue' promises quick temporary fix for severe eye injuries & gunshot wounds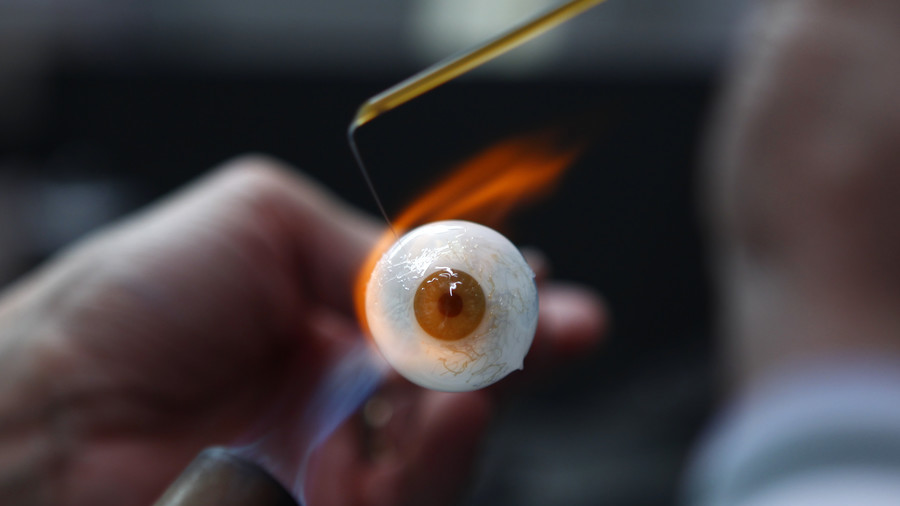 Scientists have developed a temporary glue which could afford people suffering major eye injuries precious time amid the race to get emergency surgery.
Developed at the University of Southern California (USC), the sealant is being pitched as a potential sight saver for soldiers inflicted with traumatic eye injuries by battlefield shrapnel. It's hoped the hydrogel could also be used to prevent vision deterioration in other cases where full treatment is not immediately available.
The stopgap solution, which transforms from a fluid to a semi-solid when applied, can effectively plug lacerations to the eyeball. Successfully trialled on rabbits, the gel was injected via a syringe and was found to preserve the eyeball without inflammation or further damage, according to a Science Translational Medicine journal study.
Containing material normally used in retinal implants, the ocular sealant becomes liquid when cooled and a semi-solid adhesive when heated. It means the liquid binds when interacting with body heat and can be easily removed through cool water.
Due to its make-up, a special, portable syringe with cooling calcium ammonium nitrate crystals was developed to enable use in tricky situations.
Lead author of the new research paper, Niki Bayat of the USC Viterbi School, said the liquid's first incarnation as an eye implant adhesive was not wholly suitable. So a few tweaks needed to be made.
"Since the initial hydrogel's transition temperature was very close to the temperature of the human eye, we had to modify its properties to ensure that it would form a solid seal as soon as the gel was applied to the eye by a soldier or medic," she said.
"Providing a perfect, yet reversible seal, the smart hydrogel shows promise for the next generation of tissue adhesives." It may even be used one day to treat flesh wounds in gunshot victims, according to fellow researcher John Whalen, who co-wrote the study on the reversible superglue.
READ MORE: Potential erectile dysfunction cure discovered in venom of lethal Brazilian spider (VIDEO)
"First responders at a mass casualty incident could deploy the hydrogel while patients wait for their injuries to be completely repaired by an ocular surgeon in appropriate microsurgical facilities," he said.
"It could also be useful in ERs in rural areas where there isn't an eye center with such capabilities nearby. It may even have potential for temporarily treating gunshot wounds."