Double-decker 'autonomous' train hits speeds of 200kph (PHOTO)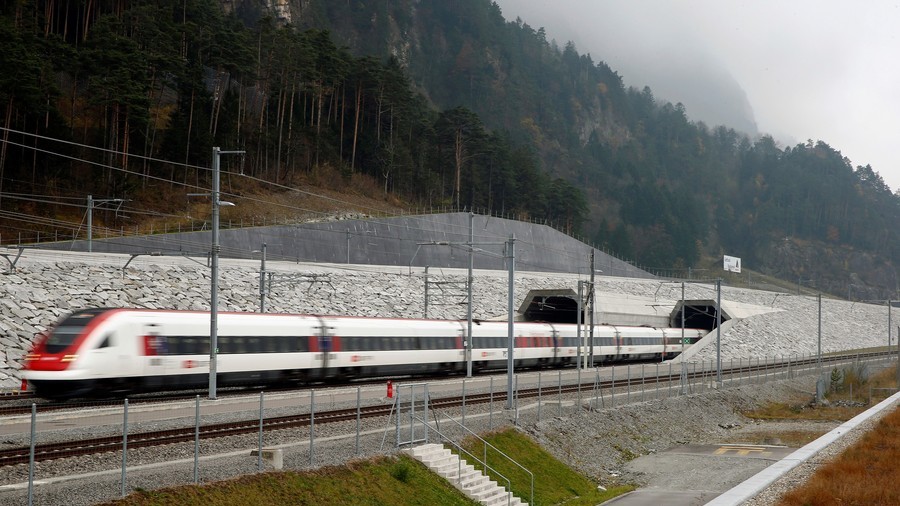 Switzerland's national train operator has successfully tested the autonomous running of a locomotive capable of reaching speeds of up to 200kph (125mph).
Swiss Federal Railways (SBB) is exploring a new autopilot system in an effort to boost "capacity and safety." Part of the company's SmartRail 4.0 digitization of the current infrastructure, the upgrade allows trains to speed up and slow down without needing a driver.
Recently, a test of the 'autopilot' system using an empty passenger train took place on a stretch of track between Berne and Olten known as 'Rail 2000.'
During the trial a double-decker commuter train, which can travel at speeds of around 200kph, successfully braked and accelerated automatically. The test was carried out with a mechanic on board monitoring the system.
READ MORE: Hackers could take over driverless cars to launch terrorist attacks, tech experts warn
The trial took place at night and no passengers were allowed onboard at the time. While the technology allows the train to effectively run on its own, SBB has suggested that it will only be implemented as a "driver assistance system."
"As indicated by current tests, automated trains are not autonomous or unaccompanied trains. SBB is convinced that, in the future as well, qualified personnel will have to be on board the trains in order to ensure the safety and punctuality of railway operations," SBB said in a statement announcing the test.
READ MORE: Driverless taxi drone test launched in Dubai (VIDEO)
Manufacturers of autonomous vehicles have witnessed an uptake in interest in the technology in recent years, with companies such as Tesla and Volocopter looking for a slice of the market. A number of driverless metro systems exist around the world, including Barcelona and Copenhagen. However, high speed train networks have yet to follow suit.