Wired device 'filled with nails' defused at Christmas market in Potsdam, Germany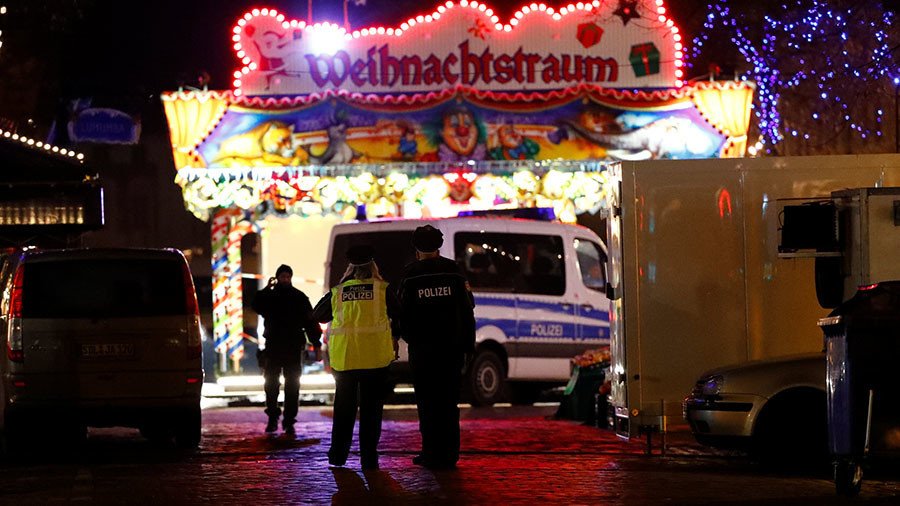 The German police have evacuated a Christmas market in the city of Potsdam following a report about an "explosive device" allegedly planted nearby. Later, a wired device "filled with nails" was found and defused.
Police were "deployed to central Potsdam because a suspicious package [was found there]," the local police department said in a Twitter post. Local officers also cordoned off the area around the suspicious object and requested assistance of specialist officers, the statement added.
A bomb disposal unit examined the suspicious package reported to be 50 centimeters long and 40 centimeters wide. "The USBV's [the German police bomb disposal unit's] suspicions have been confirmed," police said in a Twitter post, referring to the device, after initial reports suggested that an explosive device was allegedly planted in the area. However, it later emerged that the unit just confirmed that the device posed some danger and could potentially be explosive.
Police also expanded the cordoned-off area. Officers urged people to clear the area using loud-speakers. In the meantime, the city authorities urged people to avoid the Christmas market.
The specialist unit then successfully defused the device in situ, German police said in a Twitter post. Earlier a local reporter, who was present at the scene, said she had heard the sound of an explosion.
The suspicious package was delivered to a pharmacy located near the Christmas market by a package delivery service, a police spokesman said. The pharmacy employee reported the suspicious package. Its still unclear, who ordered the delivery.
The device was filled with nails, a local police spokesman told journalists after the device was defused. The pharmacy employee who opened it said he found suspicious wires, a local police spokesman, Peter Meyritz, told Potsdamer Neueste Nachrichten. Police said that it is still unclear if it was an explosive or incendiary device, adding that specialists were still examining it.
"There could be potentially other [similar] packages delivered to other places near the Christmas market," he said, adding that the police launched an investigation into the issue.
Later, police said on Twitter that the device was a "cylindrical object with wires and batteries" that also contained nails. However, no detonating fuse was found, police said.
You can share this story on social media: