Explosion at chemical plant in Japan causes injuries, evacuation ordered (PHOTOS, VIDEO)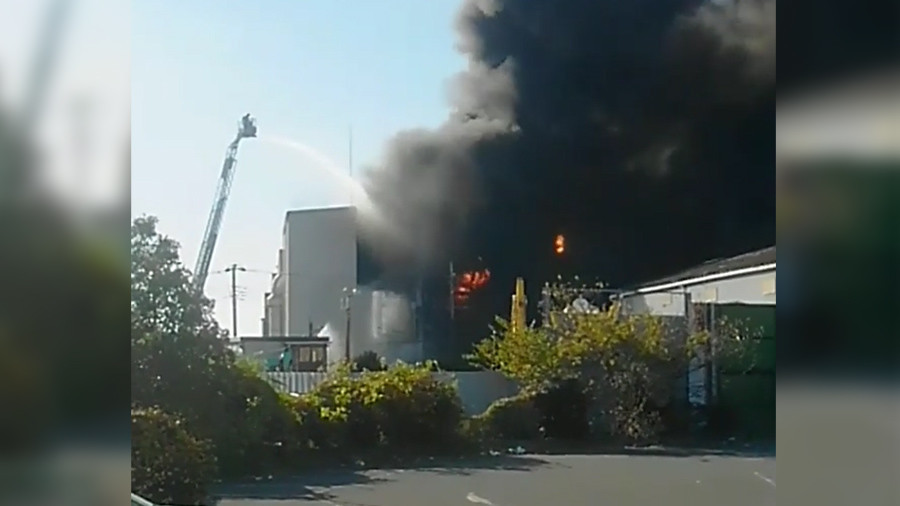 An explosion and subsequent fire at a chemical plant in the Japanese city of Fuji has caused up to 14 injuries, local media report. An evacuation has been ordered in nearby areas.
Images have emerged on social media, appearing to show a thick column of black smoke rising at the scene of the explosion.
The explosion took place at 8:30 am Friday local time (23:30 GMT), MHK reports. Fourteen people were injured, three of them seriously. Dozens of firefighting crews are tackling the blaze, with black smoke billowing from the facility and red flames visible, according to witnesses.
Local authorities have ordered everyone in a 100-meter (almost 330ft) radius around the site to evacuate. A local train line is experiencing delays.
The chemical plant is owned by Arakawa Chemical Industries, which according to its website produces "high-quality and environmentally friendly" chemicals used in the manufacture of a variety of items, including adhesives, inks, rubber, plastics and paper. Flammable material such as petroleum was stored at the factory and caught fire, according to the local fire department cited by NHK.
The plant was operational 24 hours a day, including at the time of the explosion.
There have been no reports of toxic spillage so far.