IDF tanks & jets attack Hamas positions following mortar shelling from Gaza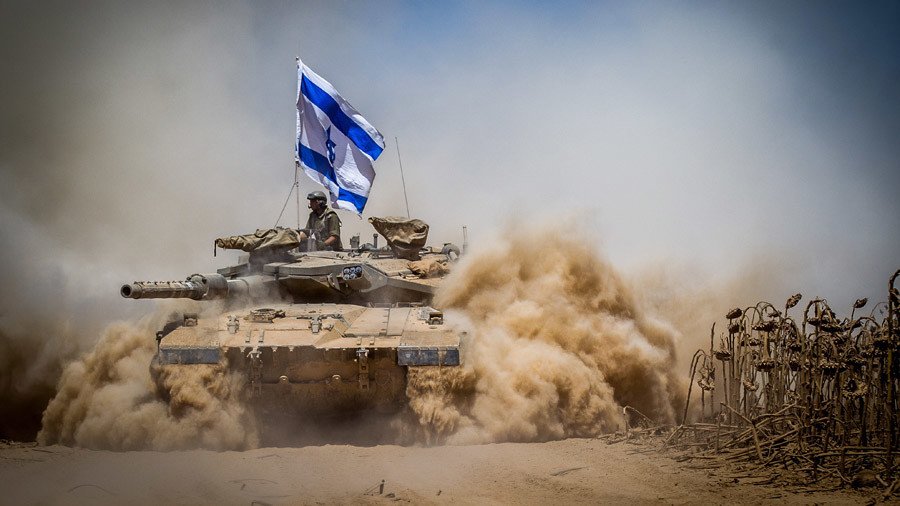 The Israel Defense Forces (IDF) have staged an attack on Hamas positions in the Gaza Strip, using tanks and fighter jets, local media report. The IDF claims it is retaliation for a mortar shelling of an Israeli outpost by another militant group.
IDF tanks and warplanes attacked four Hamas positions near the town of Beit Hanoun located in the northeastern part of the Gaza Strip.The Israeli security forces also stopped several train lines in the area, as well as ordering all local farmers to evacuate, according to media reports, which add that work on the border fence was also halted.
Later, the IDF also targeted two military posts in central Gaza, which Palestinian sources said belonged to the local Islamic Jihad terrorist group. At least three people were injured in the Israeli airstrikes in Gaza, according to media reports, citing local medical sources.
The attacks followed mortar shelling of an Israeli outpost, which the IDF said was carried out by Islamic Jihad. Between 10 and 12 shells landed in the area near the outpost but no one was hurt, according to reports.
"We know exactly who shot, on a personal level, their names," said IDF spokesman Ronen Manelis, as cited by local media. However, the IDF also said that, "in accordance with its established policy," it holds Hamas responsible "for any hostile activity perpetrated against Israel from the Gaza Strip," as reported by the Times of Israel.
In late October, the IDF blew up a tunnel stretching from the Gaza Strip into Israeli territory. Six militants were killed in the blast, including Islamic Jihad's field commander in Central Gaza and his senior associate, as well as two Hamas fighters.
Hamas called the Israeli October operation a "dangerous escalation against our people" and "a desperate attempt to sabotage efforts to restore Palestinian unity," the Times of Israel reported. The group also said it would continue to "resist the occupation" in "all forms and through the use of various tools." Israeli Defense Minister Avigdor Liberman, however, called the operation a success.
Israel's actions in Gaza have repeatedly provoked criticism from the United Nations. The UN special rapporteur on the human rights situation in the Occupied Palestinian Territories, Michael Lynk, recently lashed out at Israel by saying that Tel Aviv's actions in the occupied Palestinian territories "crossed a red line into illegality."
Back in 2014, the UN also reported that up to 80 percent of fatalities in Israeli bombings of Gaza are civilians. At that time, Israel launched Operation Protective Edge following a counterterrorism crackdown in the West Bank.
More than 2,200 Palestinians were killed during the conflict, over half of them civilians, according to the UN. However, Israel has disputed the toll, saying that many militants were counted as civilians.
You can share this story on social media: