Car bomb hits finance ministry offices in Aden, Yemen, casualties reported (PHOTOS)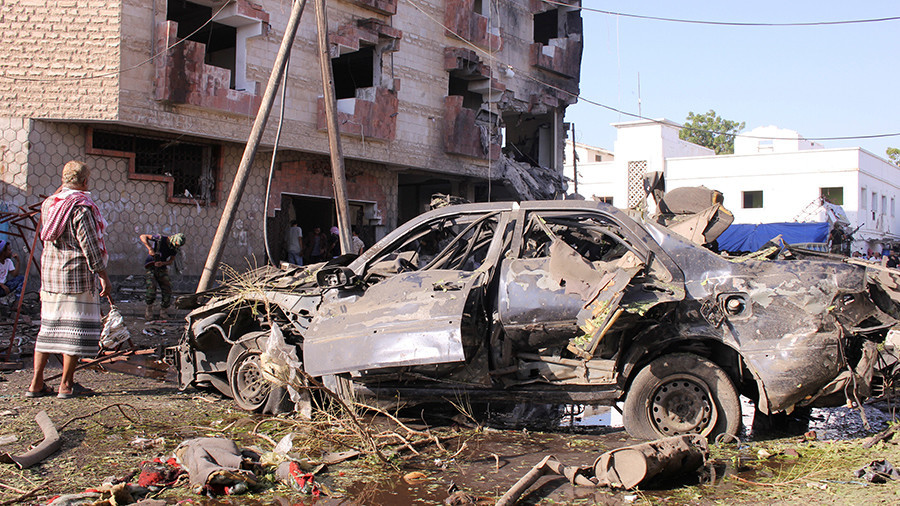 A powerful car bomb has struck the offices of Yemen's Finance Ministry in the port city of Aden. Initial reports indicate four people were killed and several others injured as a result of the blast.
The device went off outside the ministry's headquarters in the Khor Maksar district of Aden, which serves as the unofficial capital of the Saudi-backed government. The explosion was so strong it could be felt in the nearby area, local media reported, citing witnesses.
A fierce car bomb rocked #Yemen's #Aden-based Ministry of Finance early on Wednesday, residents confirmed.The explosion, which was heard across the coastal city, caused considerable damage to the building in the Khormaksar district of the temporary capital. pic.twitter.com/ojYPADZEku

— مأرب الورد (@mareb_alward) November 29, 2017
Conflicting reports have been emerging as to the number of casualties. Reuters, citing hospital officials, reported that two people were killed in the blast and another three were taken to the hospital in critical condition.
The death toll may rise due to gunfire, which has reportedly erupted in the wake of the car bomb attack.
Islamic State (IS, formerly ISIS) claimed credit for the attack later on Wednesday, Reuters reported citing the terrorist group's mouthpiece Amaq.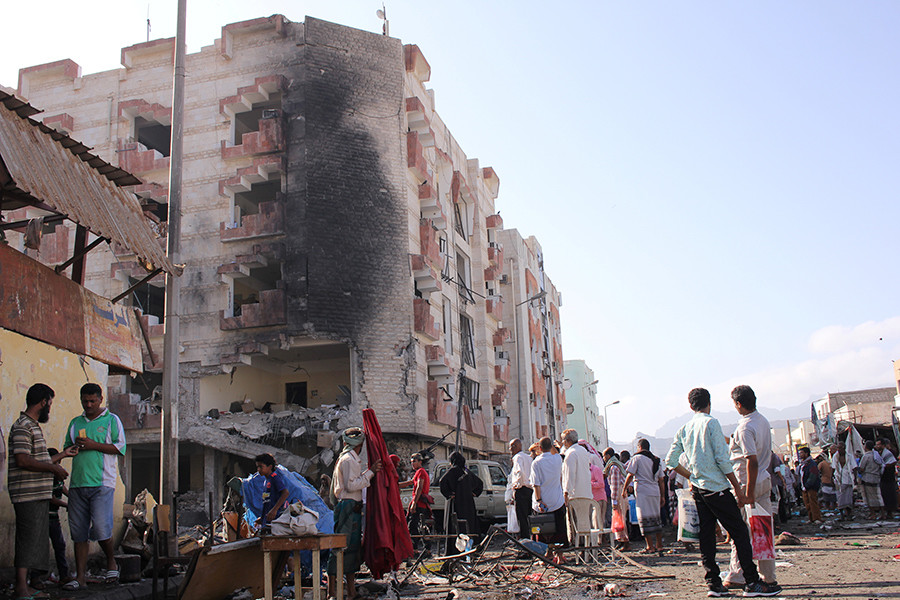 According to sources cited by Yemen Akhbar, the victims were road workers digging near the building, and the ministry itself was empty at the time the explosion struck. Four people were killed and at least four others were injured as a result, it said.
Photos have emerged of the attack, apparently showing the aftermath of the blast, depicting a badly damaged building engulfed in flames and the scorched remains of a car nearby.
Ambulances were seen heading to the site of the incident. The explosion also severely damaged nearby buildings, Al-Arabiya reported, citing witnesses.
Aden, in southern Yemen, has become the unofficial capital of the Saudi-backed government of embattled President Abd-Rabbu Mansour Hadi. The Yemeni capital, Sanaa, was taken over by Houthi rebels in September 2014. Aden has recently been gripped by a wave of deadly terrorist attacks.
On November 5, a suicide bomber blew up a car rigged with explosives outside the criminal investigations department office after which gunmen stormed the building, sparking a hostage crisis. Fifteen people were killed and at least 20 were wounded as a result. The attack was claimed by Islamic State. On November 14, in another IS-claimed attack, a car bomb rocked a local security base, killing at least 6 people and injuring dozens, including civilians.
You can share this story on social media: