Not too cool for school: Siberian students brave -50C cold & extreme blizzard to attend classes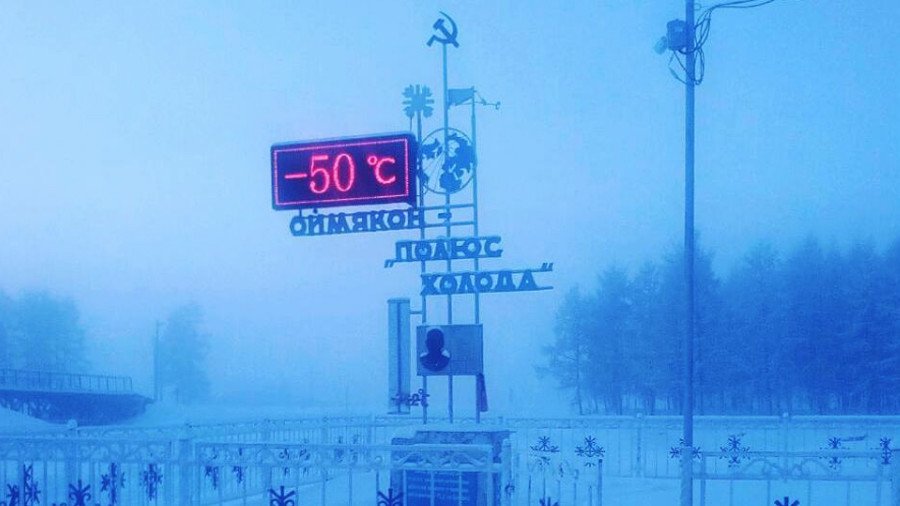 Temperatures fell to -50 Celsius (-58 Fahrenheit) in the village of Oymyakon in Russia's Yakutia on Thursday, but the kids still went to school as it was two degrees warmer than the threshold to cancel.
Classes are cancelled "at -52 Celsius temperatures for pupils from first to fifth grade," the Oymyakon village administration told News.Ykt.Ru website. "This morning it was -50 Celsius; all the kids are in school."
Located in the permafrost area of Russia's Yakutia Republic, also known as Sakha, Oymyakon is considered the Northern Pole of Cold. The world record of minus 71 Celsius was measured in the village back in 1926, placing it in the Guinness Book of Records as the coldest inhabited settlement in the world.
Earlier this week, schoolkids from another Yakutia village, Chokurdakh, impressed internet users after a video of them returning from classes in extreme blizzard was posted online.
The commentators pointed out the attitude of the children, who didn't seem to pay much attention to the terrible weather, laughing and hugging each other.
The wind reached speeds of 30 meters per second on the day the footage was filmed and it was decided to end classes early, Svetlana Koncheva, the vice-principal of the school, told Komsomolskaya Pravda newspaper. Heavy blizzards "are nothing out of the ordinary here at this time of year," Koncheva said, adding that all kids were accompanied by their parents and made it home safely.
And the Siberian region's elderly aren't afraid of the cold either. In November, YakutiaMedia reported on retirees in the village of Churapcha, who bathed in ice holes at the extreme temperature of -45 Celsius.
You can share this story on social media: