'JIM is dead': Russia hopes for a new 'objective & unbiased' Syria chemical inquiry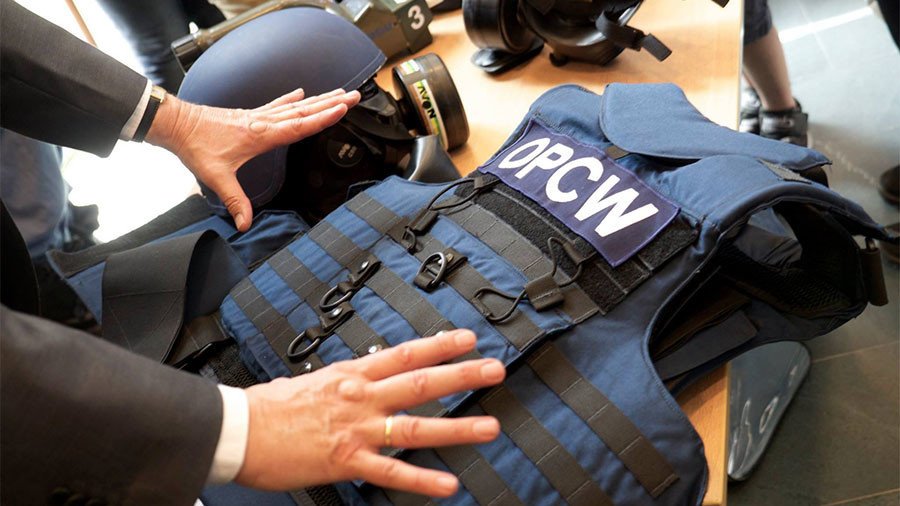 Russia is open for discussions on establishing a new, truly impartial mission to investigate chemical attacks in Syria, which, Russia's UN envoy hopes, will not bear the same chronic deficiencies of the OPCW-UN mechanism that expired last week.
"JIM is dead," Russia's UN envoy, Vasily Nebenzya, said Wednesday after the UN Security Council (UNSC) held closed-door discussions on the fate of JIM – the Joint Investigative Mechanism. "JIM has discredited itself completely and cannot continue in the present form. But we are ready to talk about establishing, creating a new mechanism that would replace JIM and do the work in a truly professional, objective and unbiased manner."
The Russian diplomat pointed out that the basic parameters of such a mechanism were outlined in the Russian draft resolution, and which was rejected by the UNSC last Thursday. Nebenzya said there is still "hope" for further negotiations on the issue.
'Fictitious probe, baseless accusations': Russia blocks new extension of Syria chemical inquiry
The mandate of the Joint Investigative Mechanism of the UN and the Organization for the Prohibition of Chemical Weapons (OPCW) expired last Friday following a number of failed attempts by the UNSC to extend its authority. On November 18, Russia vetoed the Japan-initiated draft which aimed to provisionally extend JIM's mandate by 30 days.
Moscow has repeatedly criticized JIM's handling of the investigation of chemical attacks in Syria, including the April incident in Khan Shaykhun in Idlib province, which killed about 100 people. Russia especially questioned the findings of the last probe, made public in October, which pinned the blame for the Khan Shaykhun incident on Damascus.
Moscow believes that JIM's conclusions were full of "systemic deficiencies" and speculation, lacked hard evidence, and were drawn from statements made by questionable sources. The main point of contention in the report, Russia pointed out, is that the UN team did not honor the basic chain-of-custody principle, which required OPCW to obtain on-site biomedical and environmental samples. After examining all the presented evidence, Moscow maintains that the chemical attack in Idlib was likely staged to coincide with the Syrian government's conventional air strike on the terrorist-controlled area.
Despite this, Russian diplomats have tried to negotiate JIM's renewal, but firmly held that some fundamental flaws in its mandate must be addressed. The US, however, rejected all the Russian-offered compromises during negotiations at the UN, accusing Moscow of of "undermining" the UN's ability to prevent chemical attacks in the future.
READ MORE: Chemical attacks in Syria must be investigated, but current probe unprofessional – Moscow
"The mechanism personnel behaved shamefully, using data received from NGOs connected with terrorists," Russian Foreign Minister Sergey Lavrov said Monday. "We sincerely tried to find common ground, but the United States rejected any wording that would somehow cast a shadow on this mechanism."
You can share this story on social media: