Stop 'virginity tests' & let women serve their country – HRW to Indonesian military chiefs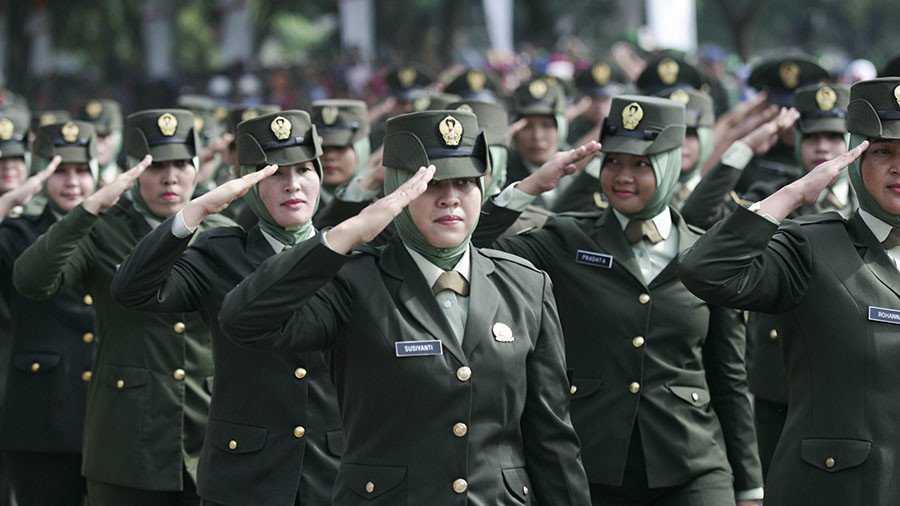 The decades-long discriminatory practice of the 'two-finger' virginity test in Indonesia should be immediately stopped, Human Rights Watch (HRW) has urged. Single women applying for jobs in the Indonesian police and army must undergo such testing.
"Indonesian President Joko 'Jokowi' Widodo should order Indonesia's police chief and armed forces commander to immediately ban so-called 'virginity tests' of female applicants," HRW said on Wednesday. The group added that the "invasive 'two-finger test' to determine whether female applicants' hymens are intact" is scientifically baseless, while being painful, embarrassing and traumatic.
Due to the degrading and discriminatory tests, women in Indonesia are denied equal access to career opportunities, Nisha Varia, women's rights advocacy director at HRW, said. "The Indonesian government's continuing tolerance for abusive 'virginity tests' by the security forces reflects an appalling lack of political will to protect the rights of Indonesian women," she added.
Indonesian military personnel are well aware of the embarrassing tests but are unable to deal with the problem, an local military doctor, whose name hasn't been revealed, told HRW. "The military is a top-down organization. We have to follow orders," the doctor said, adding that Indonesian Armed Forces Commander Gen. Gatot Nurmantyo should lead a "direct and explicit intervention" to end the issue.
HRW noted that the practice is considered a violation of human rights under Article 7 of the International Covenant on Civil and Political Rights (ICCPR), and Article 16 of the Convention against Torture, "both of which Indonesia has ratified."
READ MORE: Indonesia urged to ban virginity tests for fiancées of officers, female recruits
It's difficult to put a date on when exactly the virginity tests started in Indonesia. However, one woman, a retired police officer, told HRW in 2014 that she was subjected to the procedure back in 1965. Another woman, a female military academy applicant, recalled her 'test' in 2013. "I felt humiliated. It was very tense. It's all mixed up. I hope the future medical examination excludes a 'virginity test.' It's against the rights of every woman," she said.
Many women are told that the 'two-finger' tests are part of a health examination "as a prerequisite to enter the police force." "I felt I had no power to object because if I refused to undergo the virginity test, I would not be able to enter the police force," another woman, who underwent the procedure in 2013, said.
Back in 2015, the then-commander of Indonesia's armed forces, Gen. Moeldoko, made headlines and received condemnation from human rights groups after saying that the virginity test was actually a "good thing." "So what's the problem? It's a good thing, so why criticize it?" he said at that time.
You can share this story on social media: