Extinct giant sea cow discovered on Russian beach (PHOTOS)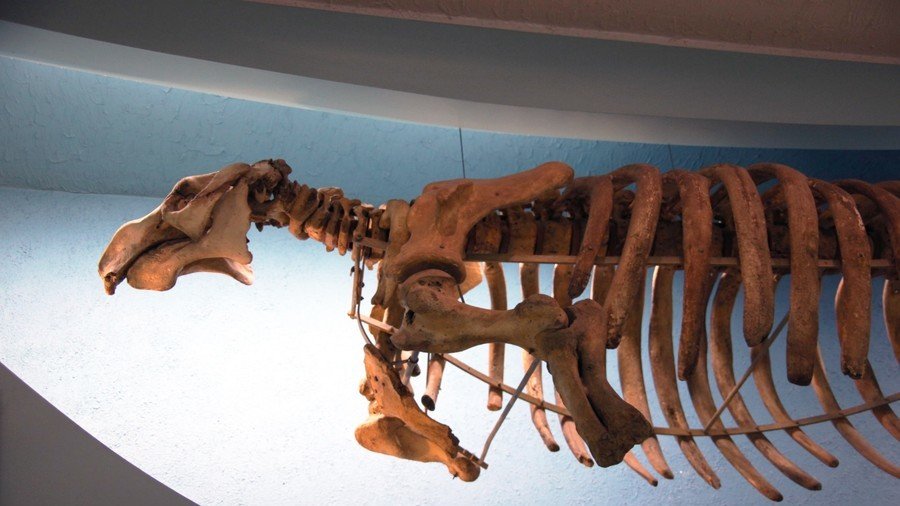 The remains of a long extinct Steller's sea cow have been unearthed on a beach in the Russian Far East.
Once native to the Bering Sea between Russia and Alaska, the sea cow, named after German zoologist Georg W Steller, is believed to have been hunted out of existence in the 18th century.
Skeletal remains of the large creature were recently discovered at the Komandorsky Nature Reserve on Russia's Commander Islands. Buried under layers of rock and sand, staff from the reserve spent four hours carefully excavating the bones, which included 45 vertebrae, 27 ribs, as well as shoulder and forearm remains.
READ MORE: Russian scientists mull cloning cave lion after unveiling perfectly preserved cub (VIDEO)
Photos of the excavation show how the marine animal must have dwarfed other animals such as seals in the Bering Sea.

Taking into account the sea cow's missing skull, researchers believe that the animal would have measured more than six meters (20ft) in length.
READ MORE: Prehistoric Antarctica forest fossils offer scientists 'glimpse of life before the extinction'
"The discovery of such a sufficiently complete skeleton of Steller's sea cow is an extremely important event not only for the Komandorsky reserve, but for science in general," read a statement by Russia's Ministry of Natural Resources.
You can share this story on social media: