Tsunami waves observed after 7.0 earthquake near France's New Caledonia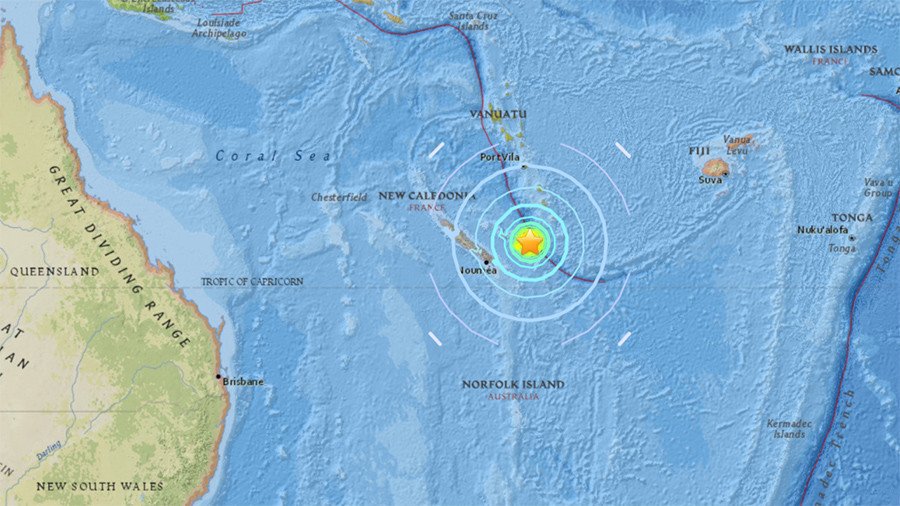 A magnitude 7.0 earthquake has struck in the Pacific near the overseas French territory of New Caledonia, the US Geological Survey (USGS) reports. Tsunami waves have been observed after the quake, the Pacific Tsunami Warning Center (PTWC) reports.
The quake was centered 82 km (51 miles) east-northeast of Tadine, on Mare Island, which has a population of over 5,600. The epicenter was 10 km (6 miles) deep. The numbers have been revised by USGS from earlier reports, which placed the epicenter 68 km from Tadine and 25 km deep, and reported its magnitude as 7.3.
The PTWC has warned of "hazardous tsunami waves" possible for coasts within 300 km of the epicenter, which puts the Loyalty Islands archipelago, with a population of over 17,000, within range. It later issued a message saying tsunami waves "have been observed."
Waves up to 1 meter higher than the high-tide mark were forecast to hit New Caledonia, with the actual height varying depending on the coastline. The PTWC has warned that additional waves may roll in at intervals of five minutes to an hour, and may be higher than the initial ones.
The 7.0 quake is one of the strongest in a recent string of tremors in the seismically active area, with the USGS reporting over 120 mostly shallow earthquakes of varying magnitudes since the end of October. Tsunami waves have not been detected before.
Evacuations were ordered for coastal areas in New Caledonia, local broadcaster NCI reports, and also advised for the southern provinces of the island nation of Vanuatu, located north of the earthquake's epicenter.
The PTWC has now released a final message saying that the tsunami threat has passed.
You can share this story on social media: