Scarred by Islamist terrorism & civil war, Somalia is failing to feed 6.7mn citizens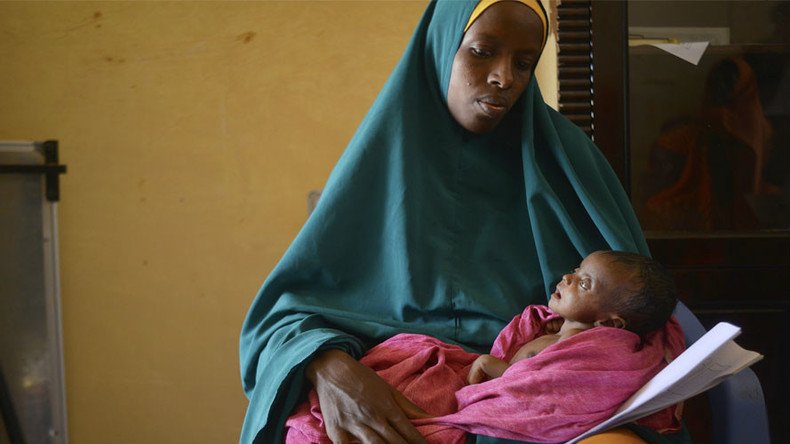 Somalia has been gripped by a perpetual cycle of drought, famine, and violence for decades, but 2017 could mark a tipping point in the nation's fortunes, as the twin threats of climate change and an Islamist insurgency threaten an impending cataclysm.
At the start of 2017, Somalia required $1.5 billion to reach 5.5 million people at risk of famine. The total number of people in Somalia in need of humanitarian assistance rose by 500,000 between 2016 and 2017, from 6.2 million to 6.7 million, according to figures from the Food Security and Nutrition Analysis Unit.
At present, 3.2 million people face "Crisis and Emergency" levels of food insecurity as a result of drought, internal displacement through conflict, and a sustained bombing campaign by Al-Shabaab militants. On a global scale, one in every 110 people is currently displaced by violence, famine, or persecution, the worst such displacement in human history, including both World Wars.
READ MORE: Conflict pushes 20mn to brink of starvation: RT primer on global famine, interview with WFP (VIDEO)
In addition, Somalia is also facing its worst outbreak of cholera in five years as a direct result of the forced movement of people and a subsequent lack of adequate hygiene and water facilities.
So far in 2017, there have been 38,000 cases and approximately 683 deaths from cholera. Somalia is also facing a measles outbreak which has affected over 7,000 people this year, 65 percent of whom are under the age of five.
These figures were expected to be compounded by the rainy season and projected flooding in several regions of the country. However, thus far, the rains have underperformed, compared with neighbors Ethiopia and Sudan, who have both experienced flooding.
One million people have already fled to neighboring Kenya, Ethiopia, Uganda, and even Yemen, which is facing its own famine crisis, Oxfam reports.
Persistent and recurring cycles of violence have prevented Somalia from establishing and maintaining any kind of coherent and functioning transport, agricultural, and sanitation infrastructure.
Al-Shabaab militants have carried out 71 attacks that have claimed the lives of 784 people so far in 2017. The deadliest twin attacks took place on October 14 and claimed over 300 lives marking the worst terrorist bomb attack in Somali history.
For context, there were a total of 395 IED attacks in Somalia throughout 2016 which killed 723 and wounded over 1,100, which marked a 110 percent increase from 2015. While the number of attacks decreased, the overall intensity of the explosives used and the destructive consequences greatly increased, further destabilizing an already precarious security situation and exacerbating the country's multiple humanitarian crises.
Somalia never really stabilized for any great period of time following the unification of Italian Somaliland and British Somaliland in to form the Somali Republic on July 1, 1960. Immediately after the assassination of former President Shermarke on October 15, 1969, Mohamed Siad Barre led a military coup which seized power. Siad Barre was viewed as a dictator by many and ruled with an iron fist while declaring Somalia a "Scientific Socialist" state.
"When I came to Mogadishu...[t]here was one road built by the Italians. If you try to force me to stand down, I will leave the city as I found it. I came to power with a gun; only the gun can make me go," Siad Barre said, as quoted by Mohamed Diriye Abdullahi in his book, "Culture and customs of Somalia."
Barre ruled Somalia from 1969 to 1991 but was overthrown and exiled by militias. The power vacuum left by the collapse of the military junta shortly thereafter has led to an ongoing system of tribalism, with North Somalia, or Somaliland, cutting ties with the South and the Puntland region following suit.
The fractured clan politics within the country, combined with a dearth of natural resources, led to increased competition for power and resources, allowing Islamist extremists to take hold as just another faction vying for control.
"Clans form the bedrock of Somali society and identity, but political exploitation of their rivalries has blocked every attempt at peace since Somalia collapsed into war in 1991," Reuters reported in 2011.
Since 1991, Somalia has experienced at least seven periods of famine resulting from droughts. Concurrently, Somalia has been in a state of civil war between rival factions, clans, and insurgents since the collapse of the Siad Biare government in January 1991.
Apart from Somalia's two main rainy seasons – 'Gu' from April to June and 'Deyr' from October to the end of November – the country experiences relatively little precipitation. When these rainy seasons fail, as is the case so far in 2017, both agriculture and pastoral industries collapse as inflation precludes the vast majority of the population from buying food.
Already this year, the 'Gu' rains failed to meet expectations, leading to a low harvest in one of the main bread baskets in the country's south, the vast majority of which is under the control of Islamist militant group Al-Shabaab.
"Because of the increase in food prices, [the famine] has been a boon for al-Shabaab's recruitment campaign because when you don't have purchasing power to buy the food, you will be encouraged to be recruited because then you will be saved, and you can use that salary or you could be given food," Bruno Geddo of the UN High Commissioner for Refugees in Somalia said of the 2011 famine that killed an estimated 260,000 people. Little has changed in the interim.
As persistent drought and governmental failure compound the suffering of the people, ordinary citizens are forced to either flee or cooperate with the Islamist extremists in order to survive. Al-Shabaab, acutely aware of the predicament facing the general population, provides its own infrastructure programs in order to boost recruitment and increase its hold over the southern and eastern spheres of influence.
In addition, in 2011, Al-Shabaab expelled foreign NGOs from its territory.
"We want our people to be free of NGOs and foreign hands. We want them to depend on each other and to stand free of outsiders," Sheikh Abu Abdullah, the al-Shabab governor of Lower Shabelle province, told Al Jazeera previously.
Given the extent of global conflict and displacement, the situation in Somalia is likely to remain extremely precarious for years to come.
You can share this story on social media: