Strategy to 'suffocate' Gaza strip revealed in Israeli govt docs from Six Day War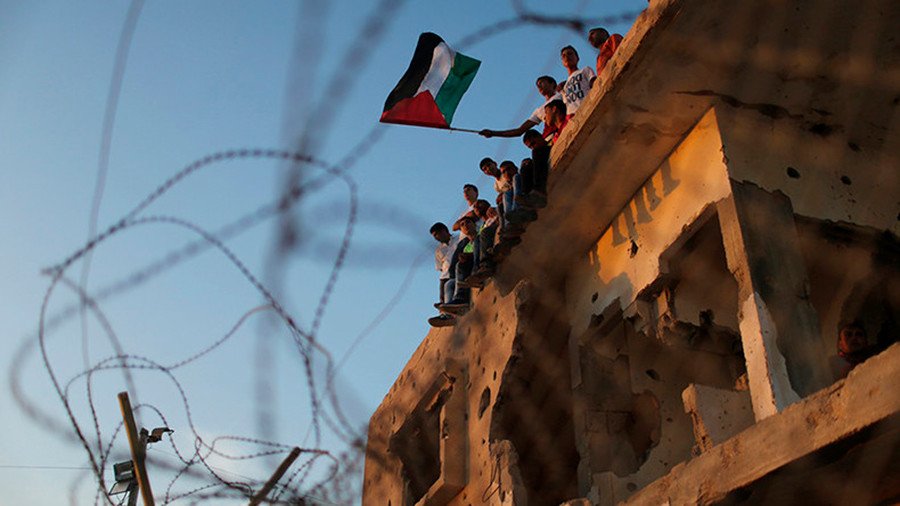 Israel has released declassified documents from after the Six Day War which reveal the government's plans to starve Gaza and its controversial plans to deal with the Palestinians.
The declassified documents were released on the Israel State Archives on Thursday and include hundreds of pages of minutes from cabinet meetings between August and December 1967, soon after the Six Day War ended the previous June.
The Six Day War between Israel and its Arab neighbors ended with Israel capturing East Jerusalem and the West Bank from Jordan, the Gaza strip and Sinai Peninsula from Egypt, and the Golan Heights from Syria.
The documents provide insight into the Israeli government's strategy for dealing with the Palestinian people and show it was unprepared for the aftermath of its victory. Some of the revelations are jarring in light of the current standoff in Israeli-Palestinian relations, from the continued stalling on a two-state solution to ongoing settlement expansion and the almost "unlivable" situation in Gaza, the documents provide numerous premonitions for what was to come.
HOW TO DEAL WITH THE ARABS?
"There are 600,000 Arabs in these territories now. What will be the status of these 600,000 Arabs?" Prime Minister Levi Eshkol said in December 1967, Haaretz reports. "I suggest that we don't come to a vote or a decision today; there's time to deal with this joy, or better put, there's time to deal with this trouble."
READ MORE: UN panel blasts Israel over abuses and settlement expansion in Occupied Palestinian Territories
"There's no reason for the government to determine its position on the future of the West Bank right now. We've been through three wars in 20 years; we can go another 20 years without a decision," he said.
"If we sit 20 years, the world will get used to our being in those territories, in any case no less than they got used to [Jordan's King] Hussein being there," Transportation Minister Moshe Carmel suggested. "We have more rights; we are more identified with these territories than he is."
GAZA'S "SUFFOCATION AND IMPRISONMENT"
A UN envoy and former UK Prime Minister David Cameron are among those who have compared Gaza to an open-air prison, but it appears that the Israeli government has long intended for that to be the case. "Precisely because of the suffocation and imprisonment there, maybe the Arabs will move from the Gaza Strip," Eshkol said, Mondoweiss reports.
"Perhaps if we don't give them enough water they won't have a choice, because the orchards will yellow and wither," he added, in a suggestion that appears to fit the UN definition of genocide, which includes "deliberately inflicting on the group conditions of life calculated to bring about its physical destruction in whole or in part."
The UN has warned that by 2020 Gaza will be "unlivable," suggesting the strategy introduced by the Israeli government during the 1960s may soon come to fruition.
"We are interested in emptying out Gaza first," Eshkol said when his defence minister suggested giving Arabs foreign work permits to entice them to stay away.
JEWS ONLY?
"A Jewish state in which there are 40 percent Arabs is not a Jewish state. It is a fifth column that will destroy the Jewish state," Education Minister Zalman Aranne said in cabinet minutes. "It will be the kiss of death after a generation or a generation and a half."
Israel was like "a giraffe's neck" Eshkol said, because it was so narrow. "The country is like a miserable, threatening neck for us, literally stretched out for slaughter," he said of Israel's perceived vulnerability.
"I cannot imagine it – how we will organize life in this country when we have 1.4 million Arabs and we are 2.4 million, with 400,000 Arabs already in the country?" Eshkol said.
"We must increase [the number of] Jews and take all possible measures to reduce the number of Arabs," Religious Affairs Minister Zerah Warhaftig said.
Labor Minister Yigal Allon suggested "thinning the Galilee of Arabs," referring to Arab Israelis living in the northern region Israel won in 1948 Arab-Israeli war.
HEBRON - A SETTLEMENT EXPERIMENT
The dean of the Hebron Yeshiva, an institution dedicated to the study of religious texts, requested its students and teachers return to and set up a branch in Hebron in November 1967, Eshkol told his cabinet. The school had moved to Jerusalem in 1929, after the Hebron Massacre that saw more than 60 Jews killed.
"There is a benefit in finding the first nucleus of people willing to settle there," Allon said. "The desire of these yeshiva students is a great thing. There aren't always candidates willing to go to such a difficult place."
Today, more than 1,000 Israeli settlers live in the Palestinian city of Hebron. In October 2017, Israel approved the first new settlements to be built there in 15 years.
THE LUXURY OF WAR
Justice Minister Yaakov Shimshon Shapira, Finance Minister Pinhas Sapir and Education Minister Zalman Aranne voiced their concerns as to how the outside world would view their actions, even calling for Israel to withdraw from the territories.
"I do not for one minute accept the idea that the world outside will look at the fact that we're taking everything for ourselves and will say, 'Bon Appetit,' " Aranne said. "After all in another year or half a year the world will wake up; there's a world out there and it will ask questions."
Another "solution" touted by the Israeli PM was to hope for war. "Perhaps we can expect another war and then this problem will be solved," he said. "But that's a type of 'luxury,' an unexpected solution."
You can share this story on social media: