Tragic beauty: 30-ton humpback whale washes up on Rio beach (VIDEO, PHOTO)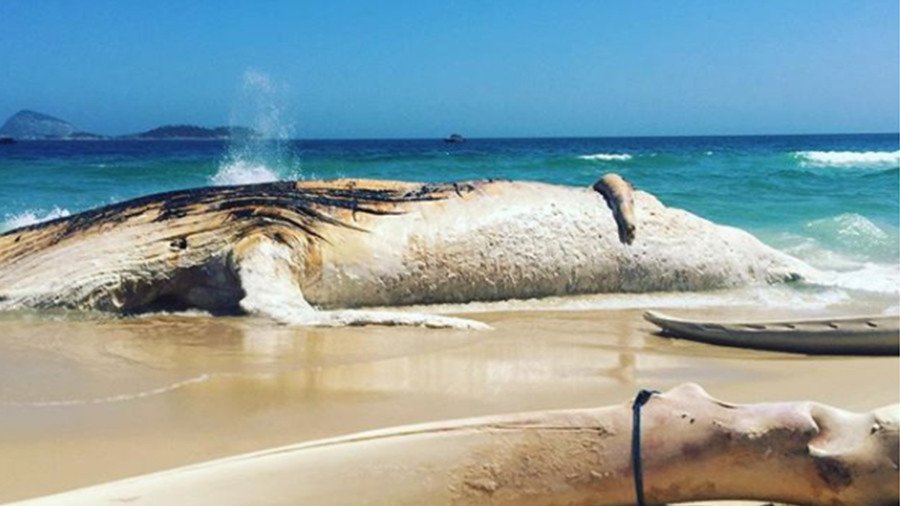 The body of a 30-ton humpback whale washed up on Rio de Janeiro's Ipanema beach on Wednesday, causing a large crowd of sunbathers to gather and take pictures of the tragic creature.
Weighing around 30 tons, the whale was discovered on a stretch of sand between Arpoador peninsula and Ipanema beach. Footage of the incident shows waves crashing up against the giant marine mammal's carcass. The area had to be cordoned off by local police to prevent people from getting too close.
It is too early to tell how the whale died, said Brazilian biologist Rafael Carvalho of the University of Rio de Janeiro (UERJ).
"You cannot say much for now. It is a humpback species, a male, that measures around 13 to 15 meters, and is in a stage of advanced decomposition," Carvalho told O Globo. "The color is very impaired. He is supposed to be more black with white parts on the stomach."
A number images of the bizarre incident, including the moment authorities arrived to collect the massive whale carcass, have since appeared on social media.
You can share this story on social media: