Saudi Arabia holding PM Hariri & family in 'act of aggression' – Lebanese president
Published time: 15 Nov, 2017 14:35
Edited time: 6 Mar, 2018 14:21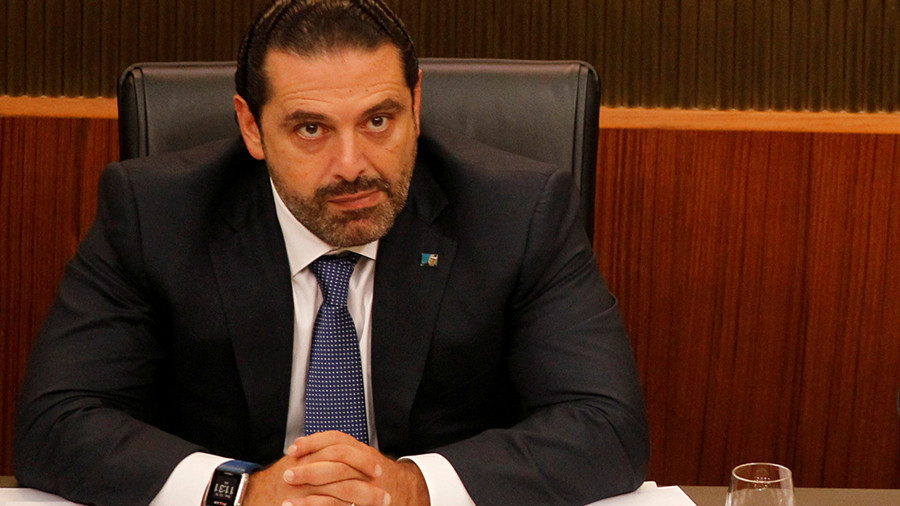 The Lebanese president has publicly acknowledged that Prime Minister Saad Hariri is being detained in Saudi Arabia along with his family, calling it "an act of aggression" against Lebanon.
"Nothing justifies Hariri's lack of return for 12 days. We therefore consider him detained," President Michel Aoun told reporters on Wednesday, as cited by Reuters. This was his strongest-worded statement yet on the situation around the Lebanese prime minister, who is said to be stuck in Riyadh.
Aoun said the Saudis were also holding family members of Hariri, adding: "We have not previously asked for their return, but we have confirmed that [his family] is also detained and family members are being searched as they enter and leave the house."
Hariri abruptly resigned in a surprise announcement broadcast from the Saudi capital on November 4, pushing Lebanon towards political uncertainty. The prime minister has remained in the Kingdom since then, though he reaffirmed in a tweet on Wednesday that he was "perfectly fine" and said he will return "to dear Lebanon as I promised."
The fact that he is still in the Saudi Kingdom, however, has given rise to speculation that he is not acting on his own free will. Riyadh, in turn, has denied holding or putting pressure on the official to resign, which some interpreted as an attempt to thwart the influence of its regional arch-rival, Iran.
There have been conflicting reports on Hariri's status in Saudi Arabia. Okab Sakr, a Shiite politician close to Hariri and a member of his political party, denies that the Saudis detained both the prime minister and his family.
Speaking on Wednesday, Aoun also said he will not accept Hariri's resignation until he presents it himself upon his arrival in Beirut. He added that the Saudis' conduct was a blatant violation of the Vienna Convention, under which heads of states and governments enjoy wide immunity from arrest or detention.
The current political crisis around Lebanon has been fueled by previous statements from Riyadh accusing Hezbollah – a Shiite militant group presumed to have Iran's backing – of a "desire to destroy the Arab world."
According to Thamer al-Sabhan, the Saudi minister of state for Gulf affairs, Hezbollah smuggled drugs and provided terrorist training to Saudi youths. "We will treat the government of Lebanon as a government declaring war because of Hezbollah militias," Al-Sabhan told al-Arabiya. "Lebanon is kidnapped by the militias of Hezbollah and behind it is Iran."
READ MORE: Hezbollah chief: Saudi Arabia 'declared war' on Lebanon, PM Hariri 'forced to resign & detained'
In response, Hezbollah leader Hassan Nasrallah said it was the Saudis who declared war on Lebanon. "Hariri is a prisoner in Saudi Arabia, and cannot return to his own country. Saudi Arabia is seeking to impose its will on the Lebanese government. It is trying to sow the seeds of discord among various political factions here and pit them against each other," the Hezbollah leader said, as quoted by Press TV.
The Saudis were allegedly planning on forcing Israel to strike Lebanon, Nasrallah asserted, adding that he does not believe a new Israeli invasion is likely. The most recent armed conflict between Israel and Hezbollah – dubbed Operation Cast Lead in Israel – erupted in 2006 and effectively resulted in a stalemate with each side claiming victory.