Hundreds of ISIS corpses kept in Libya's makeshift morgue since 2016 – report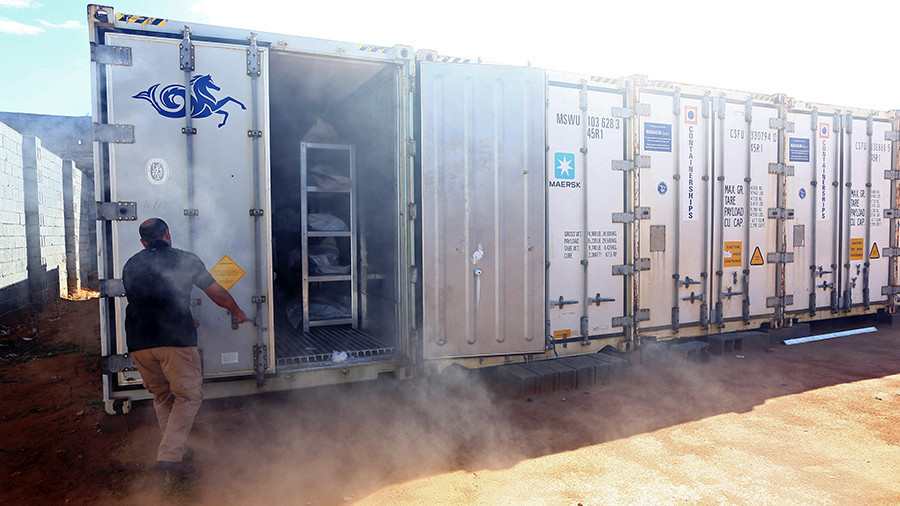 Hundreds of corpses of slain Islamic State militants have been kept in refrigerated containers in an improvised morgue in Misrata, Libya since December of last year, still awaiting a decision on their fate.
Around 700 bodies have been kept inside multiple containers in Misrata at temperatures low enough to prevent decomposition, AFP reveals. The improvised morgue has housed slain jihadists since December 2016, when Islamic State (IS, formerly ISIS/ISIL) was driven out of the coastal city of Sirte – the jihadists' last bastion in Libya.
The corpses are stored in numbered and classified bags, and each body has a file and DNA sample, which allows their nationalities to be identified. Most of the dead bodies belong to foreign fighters who came from abroad to fight alongside IS, which previously recruited large numbers of foot soldiers from Africa's poorest countries.
"We don't know if countries have contacted [Libya's] prosecutor general to recover the bodies of their nationals, but as far as we're concerned nobody's come here to try to identify the bodies," Ali Tuwaileb, a man in charge of the facility, told AFP.
READ MORE: RT visits sites of ISIS executions in area freshly liberated by pro-govt Libyan fighters (EXCLUSIVE)
Tuwaileb said all the files were handed over to the prosecutor general's office in Tripoli to decide where the bodies would be buried. The corpses are mainly of Tunisians, Egyptians, Sudanese, and some Libyans, but so far, no families have come to claim them.
The makeshift morgue is in urgent need of equipment required to store and identify the bodies, Tuwaileb said. There are two old stretchers under a tent that serves as a forensic lab.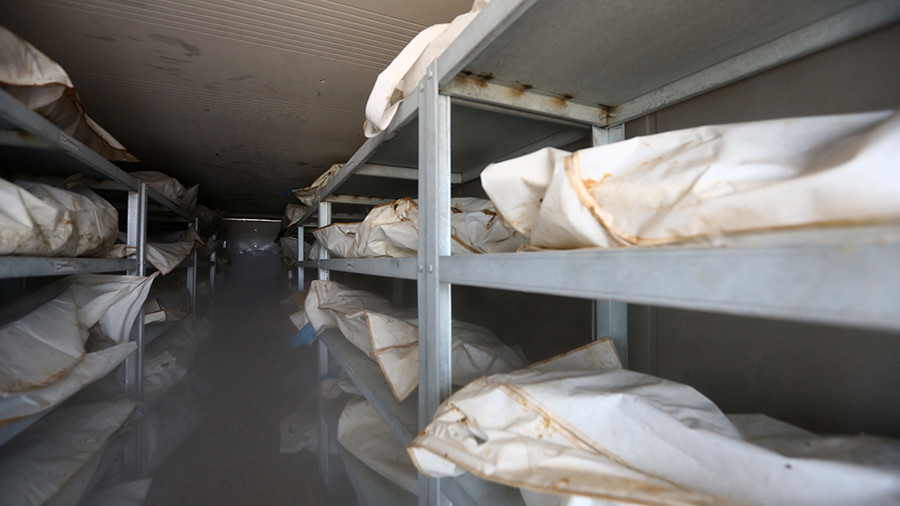 "As you can see, we don't have the means. This is where we took samples for DNA tests and where we photographed the corpses," Tuwaileb said. Hundreds of other Islamists were abandoned under the rubble in Sirte or in improvised graveyards dug by the terrorists themselves.
According to Tuwaileb, between 1,500 and 2,000 jihadists were buried in Sirte, but the presence of bodies decaying in the open provoked fears of epidemics among locals. "We don't have enough fridges, or we would have exhumed all the bodies," he said. He added that the containers were borrowed from private companies.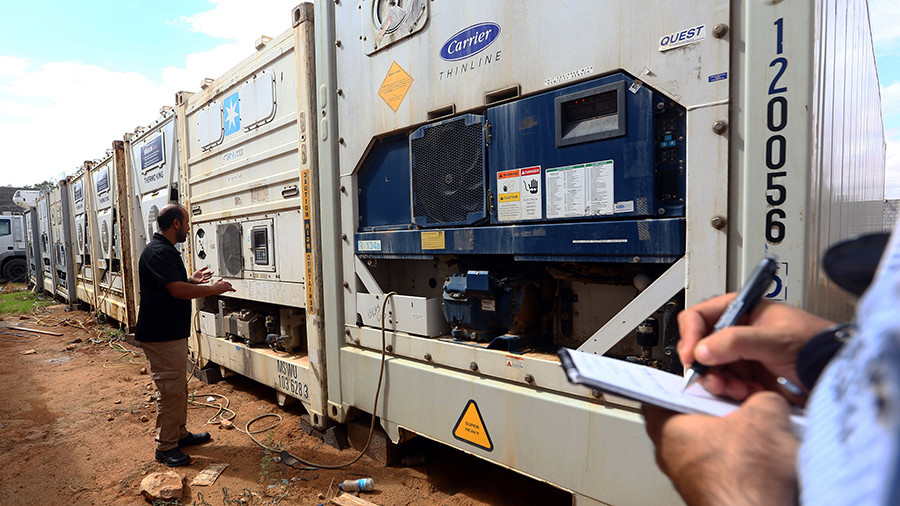 But even private contributions fail to make much difference, as three out of the seven refrigerated containers in Misrata have broken down. "We've had to redistribute the bodies among the fridges that still work," Tuwaileb explained. He said there is a constant shortage of electricity needed to keep the refrigerators running, especially in the summer heat. "So a backup has to be ready and we have to refuel it regularly," he said.
"In the meantime, the bodies will stay here," Tuwaileb said, adding that some of the companies who lent out the refrigerated containers want them back. "Every time I tell them they can take the fridges if they want, but with the contents."
Islamic State fighters have now been almost completely driven out by troops of Libya's new UN-backed government, which launched an offensive in May.
READ MORE: Death on every corner: RT takes a look behind ISIS bomb-making industry in Sirte (EXCLUSIVE)
However, some regional leaders believe the battle against IS is far from over in Libya. Last week, Egyptian President Abdel-Fattah al-Sisi warned that the defeat of Islamic State in Iraq and Syria was likely to have forced militants to seek safe haven in Libya, AP reports.
According to him, they could later cross into his country, where security forces have been battling militants on the Sinai Peninsula.
You can share this story on social media: