Life could survive longer on Mars than previously thought – study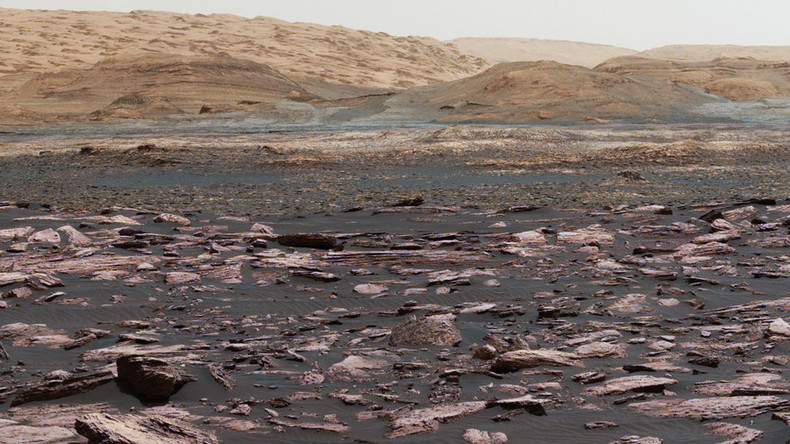 Previously, scientists didn't know if micro-organisms could withstand the extreme conditions of Mars, but new research into those biological limitations could help establish the boundaries (or lack thereof) of wider human space exploration.
Conditions on Mars are tough at best. The Red Planet has an average temperature of -63 Celsius and can drop as low as -145 Celsius in polar regions. Meanwhile, its atmospheric pressure is around 170 times lower than Earth's, and Mars has strong ultraviolet and ionising radiation.
A group of researchers at Lomonosov Moscow State University studied micro-organisms in a simulated Martian environment, focusing on the effects of radiation.
Published in the scientific journal Extremophiles, the paper studies the radiation resistance of microbial communities in permafrost sedimentary rocks under low temperatures and low pressure. The sedimentary rock used in the study resembles the 'regolith' surface on Mars.
READ MORE: NASA building very own 'Big F**king Rocket' to rival SpaceX (VIDEO)
The microbial communities showed a high resistance to simulated Martian conditions and, after irradiation, "the total count of prokaryotic cells and number of metabolically active bacterial cells remained at the control level."
While the number of metabolically active cells decreased threefold, and the number of cultured bacteria decreased by two orders of magnitude, their demise was caused by a physiological change rather than death, according to the researchers.
"The results of the study indicate the possibility of prolonged cryo-conservation of viable micro-organisms in the Martian regolith," said study author Vladimir S. Cheptsov in a statement.
READ MORE: Long-term space missions can warp your brain, study finds
"The data obtained makes it possible to assume that hypothetical Mars ecosystems could be conserved in an anabiotic state in the surface layer of regolith (protected from UV rays) for at least 1.3 million years, at a depth of two meters for no less than 3.3 million years, and at a depth of five meters for at least 20 million years," said Chepstov.
"The data obtained can also be applied to assess the possibility of detecting viable micro-organisms on other objects of the solar system and within small bodies in outer space," he added.