New iPhone X owners complain of 'green line of death' on screen of $999 device (PHOTOS)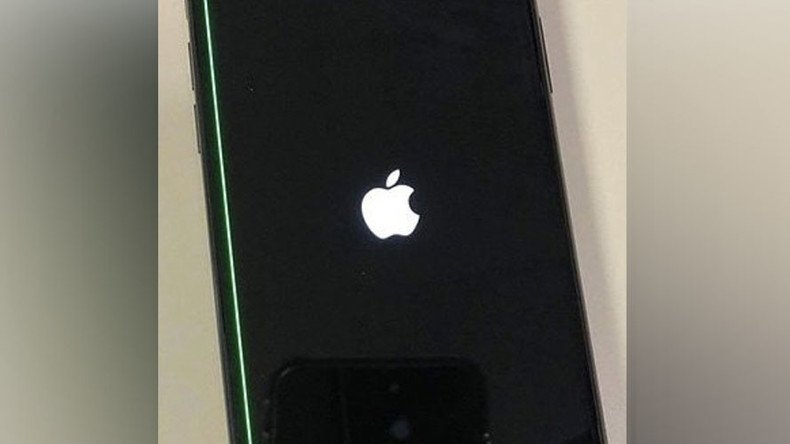 A so-called "green line of death" has been appearing on the screens of several iPhone X devices, owners of the eye-wateringly expensive new Apple device are reporting.
According to multiple users who took to social media and several different forums to complain about the glitch, a thin green line has randomly appeared down the right or left side of some of the $999 devices, just one week after the smartphone launched worldwide.
READ MORE: iPhone X craze: Jams in downtown Moscow, $5K to be first to get new gadget
The green line doesn't appear on the display when users first turn the phone on apparently, but spontaneously shows on screen after a short period of normal usage, reports MacRumors who cited users from the US, Canada, Poland, and Australia as having experienced the glitch.
While Apple has been reportedly replacing all affected units free of charge, several consumers complained on Twitter about receiving slow or lackluster service.
@JohnLegere Hey John, ordered an iPhone X and has a nasty green line on the left. TMobile reps tell me I have no warranty... not even 24hrs.

— Ivan Pereda-Zorrilla (@ivanpereda) November 4, 2017
New iPhone X has a bright green line on right side. Been sitting @Apple store for 2 hrs & they keep pushing back my appt. #Frustrating

— Jeremy Reis (@JeremyReis) November 8, 2017
READ MORE: Apple could become world's first trillion dollar company
Other iPhone X owners also complained on social media of a similar "green line of death" appearing above all media on the site.
RT.com has reached out to Apple for comment on the complaints.
You can share this story on social media: