Russia will implement retaliatory measures over US actions against RT next week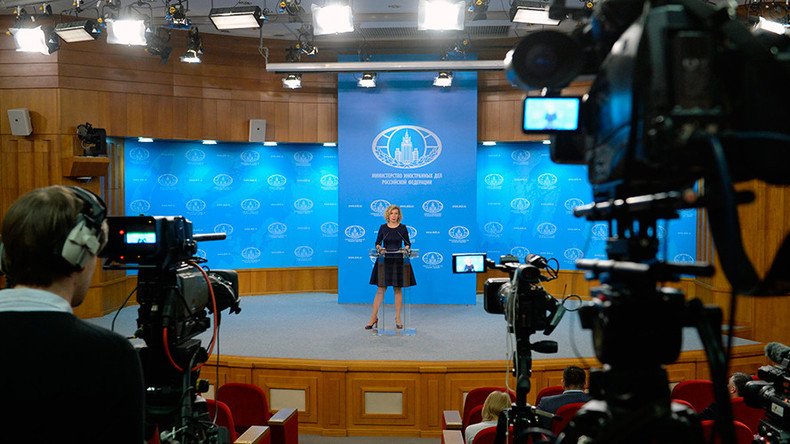 Moscow has prepared a set of retaliatory measures in response to the US compelling RT America to register as a "foreign agent" and will be ready to implement it next week, Russia's Foreign Ministry spokeswoman has announced.
"We've indeed prepared the retaliatory measures based on Russian legislation," Maria Zakharova said Thursday. "There's an understanding that the implementation of the retaliatory measures will start next week."
The demand by the US Department of Justice for RT America to register as a "foreign agent" under the Foreign Agents Registration Act (FARA) is an attempt to eradicate an "alternative point of view in the media field," Zakharova said on the '60 minutes' talk show on Rossiya 1. The hostile move against RT America also clearly shows that Russian media are gaining popularity internationally, and Washington appears to be unable to compete fairly without using "dirty tricks," Zakharova added.
"They have understood, in Washington in particular, the American establishment, that they could not keep up with this competition, let alone win it," Zakharova said.
"They cannot keep up already as RT, Sputnik, RIA Novosti, VGTRK, TASS have truly begun to win in many information fields."
The DOJ sent a letter to RT America on the matter in September. It has now presented the channel with a deadline to register as a "foreign agent" on or before Monday, November 13. RT and Sputnik Editor-in-Chief Margarita Simonyan described the ultimatum as a "cannibalistic deadline."
While RT America is forced to comply with the DOJ demand, it will challenge the decision in court, Simonyan added. Non-compliance with the order could result in the arrest of RT America's chief, as well as the freezing of its accounts, rendering broadcasting virtually impossible, she added.
"We believe that the demand does not only go against the law, and we will prove it in court – the demand is discriminative, it contradicts both the democracy and freedom of speech principles," Simonyan said. "It deprives us of fair competition with other international channels, which are not registered as foreign agents."
FARA, the controversial piece of US legislation, was adopted in 1938 to counter pro-Nazi propaganda on US soil. Currently, some 400 entities and individuals are registered on the list as "foreign agents," and pointedly, it does not include any of the dozens of other foreign media outlets operating in the US.
You can share this story on social media: