9-story block partially collapses in Russia's Urals, killing 6 (VIDEOS)
Six people were killed by the horrific collapse of a block of flats in the Russian city of Izhevsk, local authorities say, fearing that more people could be trapped under the rubble. A gas explosion was blamed for the disaster.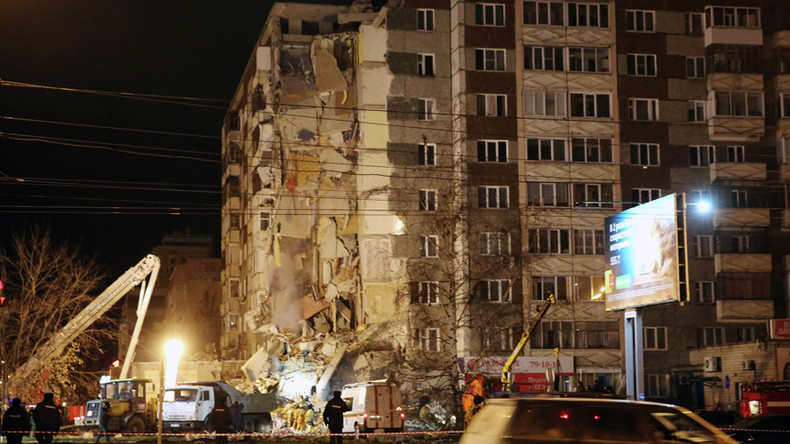 "The preliminary theory is that the collapse was caused by the domestic gas explosion," the local government's press service has said.
The bodies of six people have been recovered from under the rubble, said the Deputy Director of the National Guard in the region, Nikolay Merzlyakov. As the rescue operation continues, four others are said to be injured.
Two victims have been transferred to a neurosurgery unit, Guznischeva said earlier. Up to two people are feared trapped under the rubble, according to the Emergencies Ministry.
Plumes of dust could be seen rising above the street in one video shot by an onlooker. The corner of the building is completely destroyed, with rubble piled up. Stores located on the first floor have been buried under the debris, according to local media. The sign for a children's center can be seen in one of the photographs uploaded on social media.
Eight apartments have been completely destroyed and more than 30 affected by the collapse, a ministry spokesman said. Nearly 130 residents of the building, including 20 children, have been evacuated, according to Izhevsk Mayor Yury Tyurin. The evacuees will be taken to temporary shelters, he added.
"The building folded as if it was a house of cards," one of the witnesses, named Daniil, told Rossiya 24 TV network. The man was waiting for a traffic light in his car when the building collapsed. "We could smell gas right away," he said, adding the collapse could have been due to a gas explosion in one of the apartments.
"We saw a young woman bleeding, she was apparently hit by shrapnel in her head," Daniil said, recounting what he saw as he approached the site. Emergency services arrived at the scene within five-seven minutes, he added.
More than 400 rescuers and other personnel have been deployed, with more than 111 units of equipment involved in the rescue effort. The adjacent street has been cordoned off.
Built 27 years ago, the building houses some 550 residents, RIA reports quoting a source in the region's emergency services. Russia's Investigative Committee has launched a criminal investigation into the collapse.
You can share this story on social media: