Houthi missile attack on Riyadh a 'reaction to Saudi aggression' – Iran's Rouhani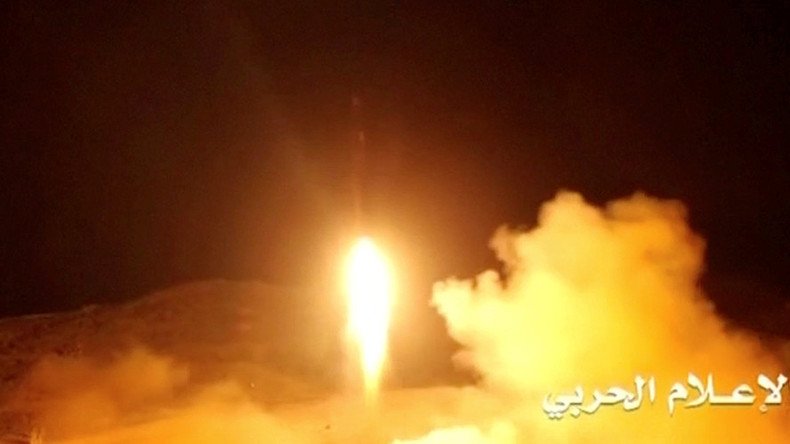 The recent missile attack near the Saudi Arabian capital's airport was a legitimate response by the Yemeni people to Saudi bombings, Iran's President Hassan Rouhani said. Earlier, the Saudis called Iran's support for the Houthi in Yemen an act of war.
"How should the Yemeni people react to the bombardment of their country? So they are not allowed to use their own weapons? You stop the bombardment first and see if the Yemenis would not do the same," Rouhani said on Wednesday, as quoted by Tasnim news agency.
Rouhani was apparently commenting on Riyadh's Monday statement claiming Iran was responsible for the attack that involved a ballistic missile launched from Yemen. The missile, intercepted by the kingdom's air force on Saturday, reportedly targeted Riyadh Airport. Houthi rebels have been accused of carrying out the attack.
Rouhani added that the Saudis had made a strategic mistake considering the US and Israel's "Zionist regime" as friends, and Iran as enemy.

"Great powers and the West have always sought to create gaps and differences among nations and countries of the [Middle Eastern] region," Rouhani said. He added that he hopes "rulers in certain countries of the region will understand the reality."
He also accused Saudi leaders of meddling in Syria's and Iraq's domestic affairs, as well as of "strengthening Islamic State [IS, formerly ISIL/ISIS]."
In a statement on Monday, the official Saudi Press Agency (SPA) laid the blame for the missile attack directly on Tehran. It said that "Iran's role and its direct command of its Houthi proxy in this matter constitutes a clear act of aggression that targets neighboring countries, and threatens peace and security in the region and globally."
You can share this story on social media: