Islamic or oriental? Berlin playground topped with crescent moon sparks controversy (VIDEO)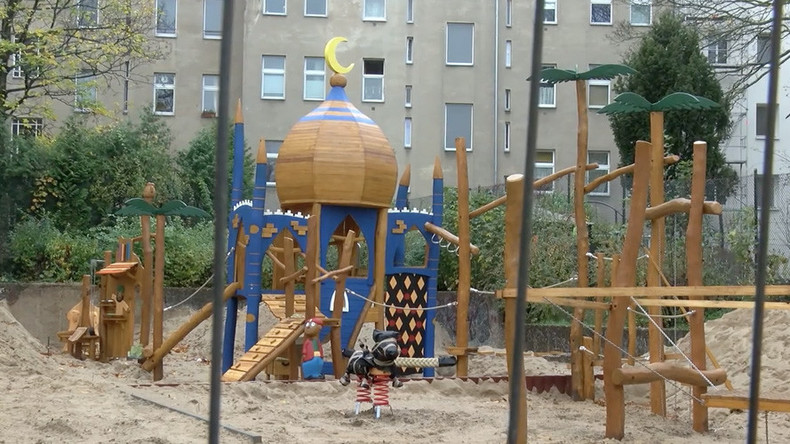 A newly built children's playground in Berlin has caused quite a mixed reaction. With one of its playhouses featuring a dome crowned with a crescent moon, some say it represents a mosque, while others claim it's simply an "oriental castle."
The park is located in Berlin's municipality of Neukölln, which is known for its high percentage of residents with immigrant backgrounds. The playground was part of a larger project for which the authorities allocated €220,000.
However, some locals were surprised to see what looked like a mini version of a mosque, complete with a crescent moon and four minarets peeking over the construction fence. Arguing there might be a religious statement behind it, some say that taxpayer money should not be spent on funding such projects.
"Playgrounds are good for children, it is good to invest money in social projects. But in my opinion religion, no matter which one – Christianity, Islam, Judaism – should be private and not be financed by tax payers' money," one local resident told Ruptly news agency.
A Twitter user apparently disturbed by the construction has recently posted "Berlin Neukölln. Allahu Akbar!" On Friday, local BZ newspaper, which reported on the site, came out with a headline reading "Berlin builds a playground and what comes is hate, hate, hate."
Burkard Dregger, who is a spokesperson for the integration policy of Angela Merkel's CDU party in Berlin also voiced his concerns. "Presumably, some clerk has come up with this highly questionable project, alleging that it would contribute to a [better] understanding between the nationalities," Dregger noted.
Others saw nothing wrong with it. "Many Muslim children live here, so why not. Maybe that's how people feel even better integrated in the society, instead of feeling excluded," a Berlin resident told Ruptly. "It should be nothing special. When you see a cross somewhere, it doesn't mean you immediately want to Christianize."
"This mosque design is very good because it represents a different culture, such as Islam here. For my children this is great," another man, a refugee from Syria now living in Berlin, said.
The mayor of Neukölln district, Franziska Giffey, argued that the whole discussion is simply blown out of proportion, calling it "absurd." Local authorities also claim the playground has nothing to do with Islam, but rather follows a bazaar theme, with the domed structure being a stylized oriental castle. There are several similar sites in the area all inspired by various fairy tales, the official told Berliner Zeitung.
Saying that this particular project is close to a daycare center called 'Ali Baba and his Thieves,' which wanted a facility to go along with its oriental theme, the official added that there are also other playgrounds dedicated to Captain Bluebear and Pippi Longstocking.