'Most expensive' whisky proven a 'worthless' fake after test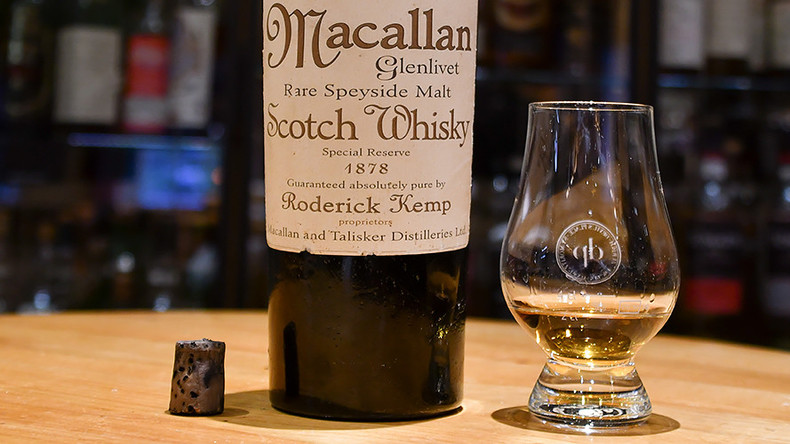 A $10,000 shot of vintage Scotch left a sour taste in its purchaser's mouth after it turned out to be nothing but a fake. The pricey tipple was tested by scientists and revealed to be nothing but a rip-off.
The expensive 2cl drink was purchased in a Swiss hotel by a Chinese millionaire, who paid 10,000 Swiss Francs for the beverage. The shot came from an unopened bottle labelled a 1878 Macallan single malt.
The Waldhaus Am See hotel in St Moritz asked a team of Scottish analysts to test the drink after its authenticity was questioned soon after the measure was purchased. Whisky industry experts noticed something wasn't right when they saw photographs of the bottle, finding discrepancies with the label and cork. Scottish-based experts Rare Whisky 101 tested a sample and found the bottle was "almost worthless as a collector's item."
Oxford University conducted carbon dating tests on the whisky and found it was 95 percent likely the spirit was produced not in the 19th century, but between 1970 and 1972. Tatlock and Thomson, alcohol analysts, found it was likely a blended Scotch of 60 percent malt and 40 percent grain.
Writer Zhang Wei bought the drink whilst on holiday with his grandmother in July. "My father bought the bottle of Macallan 25 years ago, when he was manager of this hotel, and it had not been opened," hotel manager Sandro Bernasconi told the BBC. When Zhang asked to try the drink, Bernasconi phoned his father to see if it was okay.
"My father told me we could wait another 20 years for a customer like that so we should sell it," he said. "Mr Zhang and I then opened the bottle together and drank some of it."
Zhang had no idea the shot he drank wasn't the real deal. Bernasconi phone him to tell him something could be amiss, but it was only when Bernasconi flew out to reimburse him that he learned the truth.
READ MORE: Whisky matured in space tastes 'noticeably different'
"When I showed him the results, he was not angry – he thanked me very much for the hotel's honesty and said his experience in Switzerland had been good," Bernasconi said.
"The result has been a big shock to the system, and we are delighted to have repaid our customer in full as a gesture of goodwill."